Capt Kanwaljit's son quits SAD, to contest from Patiala
Jangveer Singh
Tribune News Service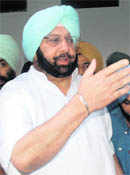 Former Punjab CM Amarinder Singh at the residence of Capt Kanwaljit Singh in Chandigarh on Friday. A Tribune photograph
Chandigarh, April 3
SAD member Jasjit Singh Bunny, son of late minister Kanwaljit Singh, today resigned from the ruling party and announced his decision to contest as an Independent from the Patiala Lok Sabha constituency.
Bunny also today announced his resignation from the membership and chairmanship of the Punjab State Cooperative bank.
The thirty eight-year-old youth fighting to retain the political legacy of his father not only pricked at the conscience of the SAD but also by announcing his resignation opened gate for re-alignments in the party by indirectly targeting party president Sukhbir Singh Badal.
Though he made it clear that Chief Minister Parkash Singh Badal was a father-figure to him, he said he would contest as an Independent from Patiala to give a "befitting" tribute to his late father.
Bunny refused to field any question about Sukhbir or comment on the alleged statement made by him that there was no need to make any further adjustment for Bunny. When asked whether he had talked to the Chief Minister, he said: "We have read in the newspaper that no candidate will be changed".
Bunny said while he would fight from Patiala, a family member would contest from theBanur assembly constituency that had fallen vacant after his father's death.
Asked whether he would contest on behalf of the SAD if the party ticket were offered to him, he said: "Now I will fight only as an Independent." He refused further questions, only repeatedly saying, "I am Jasjit Singh Bunny, I am 38 years old," indicating he was old enough to make his own decisions.
Though earlier there was confusion with family members, personal aides and supporters of Capt Kanwaljit saying they were not consulted on the decision, it transpired later that Bunny had taken the immediate family members into confidence before he made the announcement.
Bunny's sister Manpreet Kaur said: "This is a family decision. We are one voice." She went on to say: "Capt Sahib was not beholden to anyone. He won recognition for himself and had risen above the party". When asked why Bunny had made such a sudden decision, she said: "I think Sukhbir Badal's statement in the newspapers could be responsible for it".
Capt Kanwaljit's supporters were even clearer. Bachhittar Singh Tiwana from Dittupur village in Patiala said Sukhbir's statement was the main reason for today's crisis. Zila Parishad member from Mohali Salita Rani said Sukhbir's statement before the 'bhog' ceremony of the late leader had created resentment among all followers of the late leader.
In fact there was consensus amongst the supporters of Capt Kanwaljit that insecurity amongst family members on whether Bunny would get his father's department was responsible for the revolt and that it was up to the SAD to ally their fears to get the family back into its fold.