MUSIC ZONE
Razorlight ó Slipway Fires (Mercury)
Saurabh & Gaurav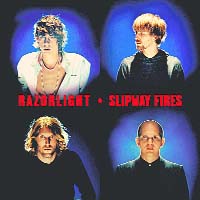 Slipway Fires is the London indie-rockersí third album and first since their 2006 self-titled release. The album actually starts out rather strong with the first single, the gutsy choral chant Wire To Wire and the memorable Hostage of Love, with its acoustic dominated verses and pleasant chorus. Then thereís Burberry Blue Eyes, another contender to be the next single, a compelling pop-rock stomp about a little wealthy girl with luxurious tastes. Tabloid Lover is the most indie effort on the album, kicking off with a rousing, siren-like guitar riff and developing into a rollicking good listen, complete with foot-stomping back beat and wild guitar solos. Whether belting out meaningful tracks over a tinkling piano or attempting a furious rocker roar, lead singer Johnny Borrell buys into the emphatic pose of the rock star, issuing vigorous proclamations on issues that matter, from feeling gloomy to the arrogance of celebrity culture. Perhaps the major transformation is in Borrellís vocals. The Dylanish, detached, sung-spoken delivery has been substituted by a kind of full-throated earnestness that implies he means every word. On Hostage Of Love, he plays with religious imagery, declaring, "I am a sinner, I am a saint, I am a devil", before proudly claiming to have "turned my cheek" at "words of derision."
The unfortunate, The House, is about the death of his dad, on which Borrell pours his heart out and pushes his voice beyond its range limit, singing about "anonymous pain throbbing real inside." The skittering rhythms of 60 Thompson and You And The Rest work well enough without exactly straying too far from the indie rock blueprint.
Best track: Wire To Wire
Worst track: North London Trash
Rating ***
Chris Cornell ó Scream (Interscope)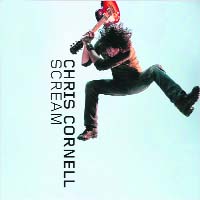 Darius Rucker (Hootie and the Blowfish) switched to country music last year, and now the rocker Chris Cornell (Audioslave) introduces electro-grunge on his third solo album Scream. Mr Chris, the grunge icon with Soundgarden in the 1980s and 1990s, penned all songs on the album, but most of the music sets aside big guitar chords to give way to synthetic beats and programmed hooks produced by the hip-hop and R&B mega-producer Tim Mosley, a.k.a. Timbaland. The album kicks off with retro sounds in Part of Me, which later picks up and gives a lively turn. Chris still sings with the trademark intensity that lets him project angst without weakness. But his complaints and confessions now arrive in clipped melody lines punctuated by automated digital snappy rhythm. Title track and current lead single, Scream, is a catchy outing, with Cornellís screams, alongside Timbalandís sound craft, working surprisingly well. Take Me Alive goes all middle-eastern before a guitar kicks in and brings you back to the rock island. The guitar-riffs glimmer of hope in the final 30 seconds of Get Up and embraces hand-clappy outro that loops itself into the main beat behind Ground Zero. Some songs are chorus-heavy in ballads such as Never Far Away and Sweet Revenge. Timbalandís beguilingly left-field vocal arrangements work well, however, particularly on the galloping Time, as does Cornellís always impressive voice.
Best track: Ground Zero
Worst track: Enemy
Rating ***
New Found Glory ó Not Without A Fight (Epitaph)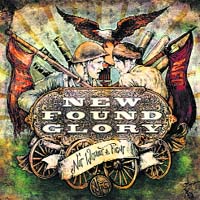 Pop-punkís reigning champs, New Found Glory, come out swinging with the release of their highly anticipated new album, Not Without A Fight. With this new album, New Found Glory really brings back their sound that defined records like Sticks and Stones and Catalyst. The albumís opener, Right Where We Left Off, aptly opens up with frontman Jordan Pundik calmly saying, "You canít get rid of me that easily." The track is pop-punk with a snottier swagger, than weíve recently come to expect from the genre. This is most evident in a chorus of pounding riffs that ricochet off rumbling drumbeats, with fast and furious pre-chorus rush. The album delivers knockout blows with the pop anthems like the current hit single Listen To Your Friends and grooving tracks like 47, followed by the right hook Donít Let This Be The End. Reasons sees New Found Glory edge a little out of their comfort zone, with flourishes of acoustic guitar and a mellower vocal performance from Jordan, which gives it a ballad-esque tilt. Truck Stop Blues displays their most meaningful lyrical strut, as life on the road is robbed of its glory; "Iím in a different state every night, weíre kept together by telephone lines. The mile markers help me count down the next time Iíll be around, the only thing I rely on is fallen leaves." Because of the relatively short track lengths, ranging from 2:15 to 3:44, the band avoids constantly repeating their chorus lines, a mistake they made on their previous album Coming Home. By keeping the tracks more concise, the songs come off as fresh and original.
Best track: Reasons
Worst track: This Isnít You
Rating ****
Album of the month
Kelly Clarkson ó All I Ever Wanted (Sony)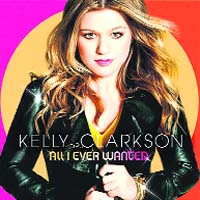 Opening the album with catchy, punchy, full-throttle hit single My Life Would Suck Without You, the first-ever American Idol winner sets the tone with her signature vocal acrobatics. When the songs work, Clarkson sounds positively unstoppable. Donít Let Me Stop You may sound like another rewrite of an older Clarkson hit (in this case, Behind These Hazel Eyes), but the observational lyrics about a questionable relationship are what ultimately makes the whole thing click. The album doesnít start to vocally sound like Kelly until its third track, Cry, which is a semi-country, sweeping ballad that reminds us how vocally eclectic Clarkson can be. Already Gone already sounds timeless, and Save You will make you long for Cherís If I Could Turn Back Time era. One of the albumís highlights is Save You, the wistful lyrics of which may be somewhat simplistic, but Clarkson infuses it with an emotional punch that could stop your breath.
The punky Whyyawannabringmedown feels like one of the few songs where Clarkson is allowed to let her freak flag fly, and amid the stop-start guitars that chug around her, Clarksonís rock-ready wail makes her sound like Tia Carrereís character in Wayneís World. The breezy, carefree pop of Ready precedes I Want You, and, together, weíre reminded as to why Clarkson won American Idol in the first place.
Best track: My Life Would Suck Without You
Worst track: If I Canít Have You