M A I N N E W S
Rahul owns no car, has Rs 23 lakh loan
Shahira Naim
Tribune News Service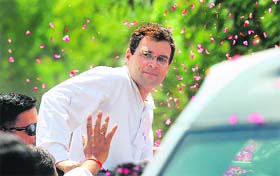 Rahul Gandhi arrives to file his nomination papers for Amethi parliamentary constituency in Sultanpur on Saturday. — AFP
Sultanpur (UP), April 4
Rahul Gandhi, 38, does not own a vehicle or a house and still has repayment of around Rs 23 lakh on a loan that he had taken. Yet, according to the affidavit filed by him during nomination, the total worth of the Congress general secretary's assets is approximately Rs 2.23 crore.
Accompanied by Congress president Sonia Gandhi, Rahul filed his nomination for re-election to the Amethi seat under Sultanpur district today. According to the affidavit, this year he has paid income tax of Rs 1,120,880, sales tax of Rs 532,000 and property tax of around Rs 78,000.
Against liabilities, the affidavit speaks of a loan of Rs 70 lakh he had taken from HDFC in 2006, of which Rs 23 lakh is to be returned.
While the first time MP wrote nil against the column asking if he owned a vehicle, against the column of immovable property he mentioned two agricultural plots and two shops.
The first agricultural land of 4.692 acres is in Mehrauli in Delhi, of which he has a 50 per cent share. The value of this land as on March 31, 2008, is Rs 986,244 only. Another plot is of six acres in Faridabad, Haryana, which is worth around Rs 2,822,000.
He is the owner of two shops in the Metropolitan Mall in Saket, New Delhi. Shop No. 24 measuring 514 sq ft is valued at Rs 55 lakh and the other shop on the ground floor of 996 sq ft is valued at Rs 1.8 crore. He also has Rs 70,000 with the State Bank of India in Delhi and another Rs 7,000 as deposits with financial institutions. Also, he has deposits in non-banking financial companies worth Rs 742,966. And with the HDFC in New Delhi, he has Rs 341,892. Both are long-term deposits.
His deposits with postal savings, the Life Insurance Corporation and the National Savings Scheme is worth a total Rs 1,029,128. His other assets, including values of claims and interests, are around Rs 729,621. Interestingly, he owns 333.3 gm of jewellery worth Rs 150,000.
According to the affidavit, Rahul acquired an M.Phil in development economics from Trinity College, University of Cambridge, in 1995. He also holds a Bachelor in Arts degree from Rollins College, Florida, which he had completed in 1994.
And perhaps the greatest qualification - he has no criminal cases pending against him.
Notably, despite the implementation of the prohibitory orders, a large number of people were present to view the arrival of the leaders at the Collectorate here, which tried to surge ahead to get a better view of the leaders. A heavy police presence was visible.
Besides his mother, Sultanpur Congress candidate Sanjay Singh and close family friend Satish Sharma accompanied the Amethi MP. UPCC president Rita Bahuguna Joshi was also present.
Due to the sudden death of her father-in-law in New Delhi yesterday, sister Priyanka Vadra and brother-in-law Robert Vadra could not be there as had been originally scheduled.