Those were the best days of my life...
…crooned Bryan Adams in his cult hit Summer of 69 as he reminiscences about his youth. Many of us would agree when it comes to our campus memories
Mona
When it comes to chronicling the most cherished moments of our life, many of us like to replay our college or varsity days. Apart from books, lectures and libraries, campus is the super seat of mushy crushes, perennial pranks and fulfilling friendships, memories of which come with a lifetime warranty of happiness.


— Photo: Manoj Mahajan
Tracing terror
Mukul Deva is out with his second book on terrorism and intends to write two more
Manpriya Khurana
Finally, a book by someone who's been in the midst of it all! When an Army man pens on action, thriller, suspense, battle, adventure…you bet he's smelled the gunpowder himself. That's author Mukul Deva. So when his note reads 'This book is a work of fiction although some of the events mentioned here have actually taken place', it only saturates the credibility factor.


Arabian nights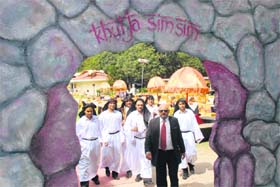 All set for a three-day Arabian food festival Hotel Mountview's environs spell a magical cast Lifestyle photo: Pradeep Tewari
Home shanti home
Wooden, ceramic, glass and even marble nameplates are in fashion
Jigyasa Kapoor Chimra
They say, what's in a name? We say, everything. And when we say Moniker, we are not talking about an individual's identity, but that of a house. And what better than a nameplate to announce it! While we were under the impression that they are out and outdated, some interesting pieces at an exhibition reinforced our lost conviction of hanging a nameplate on the front door.
Myriad hues of India
The handicrafts and handloom exhibition at Lajpat Rai Bhavan-15 has all the summer colours. A collection of fabrics and handicrafts across Rajasthan, Gujarat, Meerut, Banares, Panipat, and Delhi, displaying over 40 exhibitors, it brings yet again a chance to give your wardrobe a traditional touch.
Eye opener
A Champagne cork can fly up to 80 kmph as it leaves the bottle. Anything that travels with such momentum can have a devastating effect if it strikes your eye. Knowing the right way to open a bottle of champagne will make your celebrations enjoyable and safe.
Matka chowk
The new Tagore Theatre
Sreedhara Bhasin
In my early days of Chandigarh, I visited the Tagore Theatre for a Md. Rafi night. The young aspirants sang beautifully, but the auditorium and the sound system did little justice to them. I had a chance to see some of the performance for the Chandigarh Heritage Festival held last week and fell in love with the new Tagore Theatre.


Dazzling diva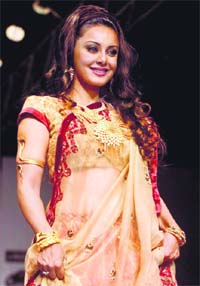 Actor Minissha Lamba displays jewellery made by P C Chandra Group at the Kolkata Fashion Week. Photo: PTI
LAUNCH PAD
Har rang kuch kehta hai!
Welhome, India is offering complete makeover solutions this summer to bring in a whiff of freshness to your home décor. This summer sees the launch of some immaculately styled home décor products in bed and bath linen, that are also available in co-ordinated sets to give you a theme/story to take home.
Picks & piques
Out of focus
TIMEPASS
Mona
It's another brick to the thriller overload on the box office. But sadly, the engaging storyteller Naagesh Kukunoor's (Hyderabad Blues, Iqbal, Dor) paranormal plunge fails to pack a punch, courtesy an ill-conceived concept and sloppy writing. 8 x10 Tasveer is ridiculous right from the word go.
Name game
Being my daughter is a disadvantage for Shruti: Kamal Haasan
Tamil thespian Kamal Haasan says his name is a "disadvantage" for his daughter Shruti Haasan but "she will have to live with it". "It is certainly a disadvantage for her, but she'll have to work with it that she is my daughter. She can't change it and she'll have to live with it and carry that luggage. And I'll always be there to support her," Kamal said in an interview.


Kabhi Khushi Kabhi Gam
Big B goes out of way to cheer Preity Zinta's IPL team
Bollywood megastar Amitabh Bachchan cheered up Preity Zinta's Indian Premier League (IPL) team Kings XI Punjab by giving a short TV bite on her behest. "Preity had called last evening for a request - her IPL team was hugely depressed and she was wondering if I could do a small TV bite to cheer them up. I did that and I hope it makes them happy," Amitabh posted on his blog www.bigb.bigadda.com.
Limited edition
I can't sing every Bollywood song: Shubha Mudgal
Ruchika Kher
Renowned singer Shubha Mudgal has created magic with her songs like Ab ke saawan and Mann ke manjeere, but her presence in Bollywood has been rather sporadic. She says it's not possible for her to sing every kind of film song as her voice often becomes a limitation.