Tuesday, April 7, 2009, Chandigarh, India
Updated at 3:00 am (IST)

April showers play spoilsport
Inclement weather, wet spell to continue
Chandigarh,/Jalandhar April 6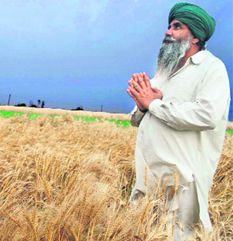 Weather forecast that the wet spell might continue in the region for the next few days has both farmers and farm experts worried. As it is, moderate to heavy rain on Monday accompanied by hailstorms is said to have inflicted extensive damage to the standing wheat crop in Punjab and adjoining states.
Rain, rain go away: A farmer prays for good weather
Blasts rock Assam
Eight killed, 62 injured
Guwahati, April 6
Three explosions rattled Assam today, killing eight persons, including a 10-year-old girl and a woman, and injuring 62 others. The blasts sent security forces into a tizzy on the eve of the 'foundation day' of the outlawed United Liberation Front of Assam, the suspect behind the terror act.
Nation page: Mob attacks lensmen, cops