Cities of joy
THE PERFECT PLAN: If you have good organisational and analytical skills, are creative and meticulous, and would like to leave behind an imprint in more ways than one, a career in urban and town planning could help fulfill your dreams

OUR towns and cities continue to grow at a fast pace — new housing settlements, schools, hospitals, markets, roads and highways are coming up in large cities and even smaller towns and rural areas. With the emerging socio-economic and cultural realities, planning, development and management of human settlements is becoming an increasingly complex task. There is a proliferation of urban settlements and conglomerations across the country, some necessary and desirable, others total unplanned and hazardous.
Course Chat
Manage wealth, lead future
THE National Institute of Financial Management (NIFM) has introduced its first-ever open one-year executive programme in capital markets (EPCM). The programme — open to all professionals in the financial sector – would be an executive programme and would begin this May. 
Careercature
Sandeep Joshi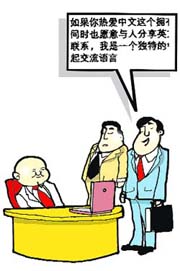 My communication skills will take me far in this job too!
Graveyard shift, literally
Late-night shift work ups cancer risk
LATE-NIGHT shift work may increase the risks of developing cancer, says a new study. According to Tulane University expert Dr David Blask, late-night exposure to light may diminish levels of a natural cancer-fighting hormone. 
Office Mantra
Work, sweat & fears
TWENTY-SOMETHING Himanshu Jindal entered the fourth year of engineering with stars in his eyes. The electronic engineering student was waiting eagerly for campus placements. And why not? His seniors had bagged good offers. Most, in fact, had multiple offers that offered a good salary and work profile. Unfortunately, before the recruiters, the meltdown arrived. Himanshu is now uncertain of the future.
Modelling's not a tall order

Aromatic medicinal plants rock

Studying abroad: Balance is the key

Call of the forest

Armed forces option open