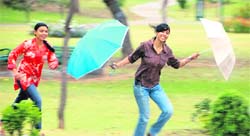 Girls just wanna have fun!: Students enjoy the rain in the green belt of Sector 11, Chandigarh, on Wednesday. Tribune photo: Vinay Malik
City has more liquor vends than schools
Chandigarh, April 8
When it comes to 'thekas' versus schools, the former seems to top the UT administration's priority list anytime. The fact that the city has over 200 liquor vends as against 107 schools surely adds different 'peg' to administration's long professed tale of social responsibility.
Drug-Peddling Case
CFSL voices trouble for NCB officer
Chandigarh, April 8
Investigating officer of the Narcotics Control Bureau (NCB) in the high-profile Israeli national Lior Avi Ben Moyal drug-peddling case Ravi Kant Pawar has landed in the soup as the Central Forensic Sciences Laboratory (CFSL) report has confirmed that his voice sample matched with the voice in the purported recording during a sting operation.
Army officer booked for dowry
Panchkula, April 8
Panchkula police today booked an Army officer allegedly for demanding dowry and cruelty against wife. The accused, Major Vivek Pandey, is posted at Kupwara in Jammu and Kashmir while his wife, Anshula, also a Major in the Army, is posted in EME at Chandimandir here.
Equip cops with advanced weapons: Chidambaram
Chandigarh, April 8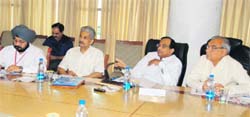 Union Home Minister P Chidambaram today asked the Haryana government to set up more quick-reaction teams (QRTs) of the police and equip policemen with advanced weapons.

Union Home Minister P Chidambaram (centre) at a meeting with Haryana Chief Minister Bhupinder Singh Hooda (right) in Chandigarh on Wednesday.
PC dubs UT as border state
Chandigarh, April 8
Union Home Minister P Chidambaram today dubbed Chandigarh as a "border state" and asked the UT administration to "behave like one" by beefing up its security apparatus and mooted the idea of forming quick-reaction teams to meet terror threats.
Home Minister's Visit
Commuters at receiving end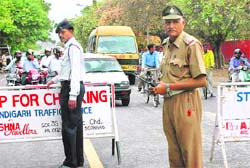 Chandigarh, April 8
Commuters on the VIP route followed by the cavalcade of the Union Home Minister P Chidambaram faced inconvenience with the Chandigarh Traffic Police imposing diversion on the route owing to elaborate security arrangements made for the Home Minister's visit.
Policemen restrict traffic near the UT guesthouse for the cavalcade of the Union Home Minister in Chandigarh on Wednesday. Tribune Photo: Manoj Mahajan
I-T dept detects Rs 383 cr in a year
Chandigarh, April 8
Investigation wing of the income tax department is claiming to have detected "undisclosed income" amounting to Rs 382.82 crore during various raids conducted in the financial year 2008-09 from UT and nearby areas. The figure is nearly 68 per cent of the Rs 227.32 crores detected in raids during financial year 2007-08.
Rhetoric dominates real issues


The criminalisation of politics is an issue that should arrest the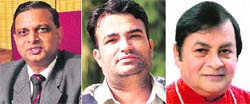 attention of the voters and the political candidates in the coming elections. Promises are made and broken. At times politicians make false promises. In my opinion candidates should measure their words. They need not commit what they can't do.
Mukul Bansal Jatinder Grover Madan Gupta Spatu
Balmiki Samaj extends support to Bansal
Chandigarh, April 8
Various leaders of the Chandigarh Balmiki Samaj met Congress candidate Pawan Kumar Bansal at his residence here today to express solidarity with him and the Congress and said they were perturbed by the "dirty" politics in which others were indulging in.
FIRST TIME VOTERS
Need for reviewing quota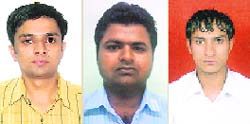 I am voting for the first time and I expect that the candidate contesting the elections should be well-qualified. He should be well versed with the realities of the country and not indulge in mud-slinging. I feel there is need for a change keeping in view whatever is happening in the country today.
Gaurav Garg Naveen Sharma Gurwinder Singh
Bunny's men to protest against NK Sharma
Zirakpur, April 8
Former Akali stalwart the late Capt Kanwaljit Singh's son Jasjit Singh Bunny's homecoming into SAD can upset the plans of the late Kanwaljit's bete noire Narinder Kumar Sharma, who is expected to be re-inducted into the party on April 10 by SAD president and Deputy Chief Minister Sukhbir Singh Badal.
Fund bait for lawyers
Chandigarh, April 8
Congress candidate Pawan Kumar Bansal yesterday assured the legal fraternity that he would ensure additional funds from the government for judicial complex in Sector 43 so that they did not have to make any upfront payment for their chambers but just a nominal licence fee.
Mahindra resorts penalised Rs 50,000
Chandigarh, April 8
Holding Mahindra Holidays and Resorts India Limited guilty of deficiency in service, the District Consumers Disputes Redressal Forum has directed the company to pay a compensation of Rs 50,000 to the complainant.
Officials told to check unauthorised construction
Chandigarh, April 8
A team of Chandigarh Municipal Corporation officials made a surprise visit to check unauthorised construction in Burail village here today.
Residents protest 'shoddy' probe by cops
Chandigarh, April 8
Irate residents of Ram Darbar today staged protests at the Sector 31 police station and at the police headquarters in Sector 9 accusing the police of shoddy probe into a theft case.
Crop in 2 acres burnt
Panchkula, April 8
Standing crop of wheat was destroyed in more than two acres of land when the electricity wires going through the fields fell down at Muradanagar near Raipur Rani here today. The victim farmers claimed the crop in two and a half acres in the village had been completely converted in to ash.
JP gets notice on garbage plant
Chandigarh, April 8
The Municipal Corporation has issued 30-day show-cause notice to Jai Prakash Associates here today for failing to make the garbage processing plant operational within the prescribed time schedule under the provision of Clause 5.1 of the implementation agreement.
Workshop on 'ultrasound guided' procedures
Chandigarh, April 8
For postoperative pain relief in surgical patients, Government Medical College and Hospital, Sector 32, today organised a workshop on "Ultrasound guided procedures for postoperative patients" here today.
Cold conditions stage comeback
Chandigarh, April 8
There was a complete transformation in the weather of the city with cold-like conditions experienced by the residents due to intermittent rain since morning.
Cultural extravaganza by Aryans
Chandigarh, April 8
Aryans Group of Institutes (AGOI) organised a cultural extravaganza "Roshaan" to celebrate the first annual prize distribution function at the Punjab Kala Bhawan today.



Aryans Group of Institutes present 'Roshaan' at Punjab Kala Bhawan in Chandigarh on Wednesday. A Tribune photograph



Study of climatic variation
SASE ties up with Allahabad varsity
Chandigarh, April 8
The Snow and Avalanche Studies Establishment (SASE) here has tied up with the Allahabad University to jointly study the past climatic variations and make future predictions on climate changes.
Profs' evaluation programme hangs fire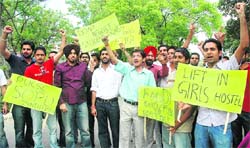 Chandigarh, April 8
Panjab University's plan to allow its students to evaluate their professors' performance seems to be heading towards a major controversy.



Members of SOPU protest in front of the VC's office at Panjab University, Chandigarh, on Wednesday. A Tribune photograph
VC replies to show-cause notice
Chandigarh, April 8
Panjab University VC RC Sobti today replied to the show-cause notice sent to him for the violation of the code of conduct in connection with his extension letter.
82 engg students make it to IBM
Kharar, April 8
As many as 82 students from Rayat- Bahra group of institutions have been selected by IBM during a placement drive organised at Rayat Bahra campus.