M A I N N E W S
Advani files nomination papers



BJP leader LK Advani, accompanied by Gujarat CM Narendra Modi, in Gandhinagar on Wednesday. — PTI
Gandhinagar, April 8
BJP's prime ministerial aspirant LK Advani filed his nomination for the Gandhinagar Lok Sabha seat today and promised that the BJP-led National Democratic Alliance (NDA), if voted to power, would strive to bring back black money stashed in tax havens abroad.
"The NDA will contest the Lok Sabha polls on the three planks of good governance, development and secularism, mentioned in the BJP poll manifesto," he told reporters after filing his nomination papers at Gandhinagar's District Collector's office.
He was accompanied by Gujarat Chief Minister Narendra Modi and state BJP president Purshottam Rupala.
Advani, former Deputy Prime Minister, has been contesting successfully from this constituency, which also includes parts of Ahmedabad, since 1991.
However, he chose not to contest in the 1996 elections.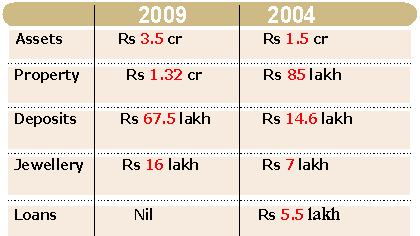 This time, his main rivals are Suresh Patel, a sitting legislator of the Congress, and noted artist-activist Mallika Sarabhai, who is contesting as an Independent.
Advani told reporters the government needed to know if there was any Indian whose money was deposited in Swiss banks. "I wrote to the Prime Minister on the black money issue and he has replied in the affirmative." — PTI