M A I N N E W S
Pawar flirts with BJD in Orissa
Addresses joint rallies with CM Patnaik
Aditi Tandon
Tribune News Service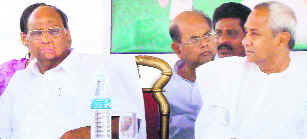 NCP chief Sharad Pawar and BJD chief Naveen Patnaik attend a rally in Jajpur, Orrisa, on Wednesday. — PTI

New Delhi, April 8
NCP chief Sharad Pawar is not one to be cowed down by his senior partner. Aware of the wrong signals his absence from a Third Front rally in Orissa sent last week, Pawar was in Orissa today to address joint rallies with Chief Minister and BJD president Naveen Patnaik.
Although Pawar ruled out being part of the Third Front and reiterated his political commitment to the UPA, he added that his party had to look forward after the Congress declined to have national level alliance. Pawar, by ensuring his presence in the state, blunted rumours that he had given in to Congress pressure. The latter had made public its discomfort over Pawar's Orissa visit.
That notwithstanding, a strong understanding has emerged for this election between the NCP and the BJD, with the latter withdrawing from Balasore Lok Sabha segment and seven assembly segments in favour of Pawar's candidates.
This is for the first time that the NCP is fielding a candidate for parliamentary election in Orissa's Balasore constituency, which is a BJP stronghold. The aggressive saffron MP, Kharabela Swain, has retained the seat for the BJP three times in a row. He is seeking a reelection from the area, even as Pawar and Patnaik today addressed rallies in the segment, besides election meetings at Chandikhole, Languleswar and Bhandaripokhari.
Interestingly, former Union minister and Congress stalwart Srikant Jena is the party candidate from Balasore, where the contest is triangular - between the NCP, supported by the BJD, BJP and the Congress.
"Communal forces wanted to use the state government to pursue their nefarious designs in Orissa which is known for peace and harmony," Pawar said in his addresses across the state. His party is contesting, for the first time, seven assembly seats out of 147 - Saraskana, Rairangpur, Badchana, Narla, Talsara, Begunia, Dhenkanal and Sambalpur.
With obvious references to Kandhamal riots, Pawar patted Patnaik for divorcing from the BJP after 11 years of marriage. He cited the move as the "right step at the right time - one that enabled a tie up between the NCP and the BJD."
Patnaik, on the other hand, kept mentioning how the influence of the UPA and the NDA had substantially declined, adding that new equations were set to emerge after elections, in which regional parties will play huge roles.