M A I N N E W S
New High: T20 in the foothills of Mt. Everest
Bishnu Budhathoki writes from Kathmandu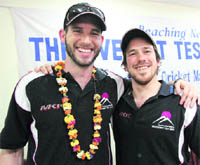 Glen Lowis (L), Hillary cricket team leader and Richard Kirtley, expedition leader for the Everest Test pose for media after a press meet in Kathmandu on friday. — Reuters
Fifty six years after the legendary figures Tenzing Norgay Sherpa of Nepal and Edmund Hillary of New Zealand set the world record by conquering the world highest peak Mt. Everest, sportspersons from UK, Australia and New Zealand have once again geared up to set a another record in the region. This time around in the game of cricket as 30 amateurs divided into two different teams,Tenzing and Hillary, will play a T-20 match at Gorak Shep, which is at an altitude of 5,165 meters, for a noble cause, said organizers on Friday.
They aim to set a record in cricket through cricket. Two teams consisting of 30 Britons, Australians and New Zealanders, will play one Twenty20 cricket match at foot of Mount Everest on April 21, which will be an official game of cricket at the highest altitude ever played.
The players, aged between 22 and 36, are all amateur cricket players and work as bankers, lawyers, farmers, marketing executives and even a policeman. According to organizers, the dimensions of the ground are 65 meter length and 45 meter width, as per the international standards as set by the International Cricket Council.
Players and the 20 support staff will trek to the Everest region for nine days and spend a day acclimatizing in Gorakshep before playing the match on April 21, which incidentally happens to be the birthday of Queen Elizabeth. Although cricket is an 11-a-side game each team has 15 players in view of the fact that some of the players may suffer from altitude sickness.
"There are a number of reasons that I decided to organize a game of cricket at Everest," said Richard Kirtley, who is the brainchild behind this.Talking to the press, Kirtley said, "The British have a proud history of being eccentric and I am keeping up with the tradition. I am also involved in volunteer work and want to raise money for charities." According to Kirtley, they expected to raise 250,000 sterling pounds but think that they will fall short of the target because of the economic recession. "But I think 200,000 pounds will be raised," he added.
The proceeds will go to The Himalayan Trust UK, which is involved in running schools and hospitals in the Everest region in Nepal and The Lord's Taverners which helps young people, particularly those with disabilities enjoy sports in England.
"We have been training hard to be physically hard to play at the altitude," said captain of Team Hillary Glen Lowis who happens to be a New Zealander like Sir Edmund Hillary.