The heat is on
What ails realty? NEERAJ BAGGA & S.M.A. Kazmi find out in in Amritsar & Dehradun, respectively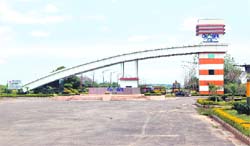 THE Sensex may be showing signs of recovery now and then and banks may have once again lowered home lone rates, but the realty sector in and around the Holy City — once compared with Gurgaon — has not trailed the cues. A number of reputed national and regional real estate developers continue to feel the heat of the global economic meltdown

The deserted entrance to Global City, Amritsar.
TREND MILL
It is a man's world
Decorated is not cheesy! With a little effort, you can transform a bedroom into a fully decorated room without losing its masculine simplicity, finds SAURABH MALIK. After all, your room reflects on who you are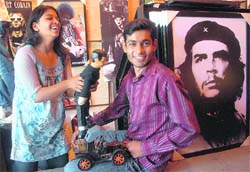 YOU have been pumping iron to come out with six-pack abs and now wish to pump in some cold hard cash into your room to give it a nice macho look. In fact, you have manfully resolved to convert your frilly-lacy bedroom into a boy's den. After all, in a man's world, you need a man's room. Yet masculine and strong bedroom décor ideas are hard to come by. The inside-outside shops you have so far visited in Chandigarh and other boomtowns of the country have stuff good enough to convert your bachelor pad into a love nest, undoubtedly. But then, synthetic flowers and floral drapes are definitely not macho.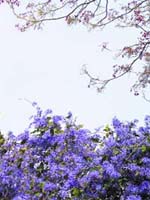 Blue Beauties
As the mercury climbs, blue flowers offer a cool sight. SATISH NARULA checks out some beautiful blooms for every part of the garden
APRIL is the time when you find colour all around. Most of the plants that have recently overcome the adversaries of winter have started to put their best forward. As the temperature starts soaring during this month, colour blue gives a cool respite. Let us talk about some blue flowering beauties while I pronounce Petrea "climber of the month".
Tiles & more…
TILE manufacturer Nitco Ltd plans to set up 100 retail outlets across the country in the next two years.
"We are planning to establish 100 Le Studios in the country," Nitco chief operating officer Kalyan Kumar Paul said. Nitco also has a concept called 'Le Studio Express', which is a compact version of the company's ambitious stand-alone store concept, Le Studio. This unique store-in-store concept has been designed to ensure dedicated participation with the dealer wherein a section of the dealer shop has been converted into a Nitco nook. This store concept will provide Nitco with a dedicated space to showcase its wide product range under one roof, Paul said.
REALTY BYTES
DLF to invest Rs 400 cr in housing
REAL estate major DLF Ltd will invest Rs 400 crore to develop a housing project of around 600 apartments, which are priced in the bracket of Rs 72 lakh to Rs 91.5 lakh, in the heart of the National Capital. The basic selling price of the apartments, located on Shivaji Marg, is likely to be fixed around Rs 6,000 per sq ft, market sources said.
Flying South
Southern cities most attractive for infra projects
INFRASTRUCTURE projects in south Indian cities have attracted 70 per cent of the private sector investment in the last four years due to better state policies and faster rising per capita income, a chamber study has said.
Tax tips
No CGT if agricultural land isn't a capital asset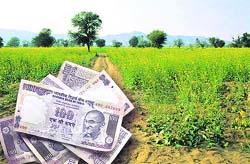 Q. My mother sold agricultural land somewhere in November 2008. Is the capital gain arising thereon taxable? She does not want to buy another land but intends to give this money to her children. What would be the tax liability of my mother and the children as and when they receive the money from the mother?
— P.S. Bhardwaj
A. The capital gain arising on the sale of an agricultural land is exempt from the leviability of capital gains tax if such agricultural land is not covered within the definition of the term 'capital asset'. In accordance with the provisions of section 2(14) of the Act agricultural land situated in the following areas is covered within the definition of the term 'capital asset':