In the news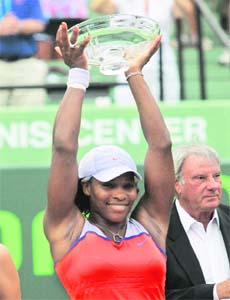 Serena Williams after losing in the women's final match of the Sony Ericsson Open tennis tournamentat at Key Biscayne, Florida, recently. An injured Serena was unable to capture a record sixth title at the tournament, losing to rising teen star Victoria Azarenka of Belarus Photo: Reuters
Indian might in Kiwiland
India's series win in Test matches in New Zealand is just another step in proving the supremacy of Dhoni's daredevils in the game, writes Abhijit Chatterjee
IT took 41 years to come, but it was well worth the wait as Dhoni and his boys put it across New Zealand to claim a Test rubber in Kiwiland 41 years after Mansur Ali Khan Pataudi-led side drubbed the Kiwis 3-1 in 1968. But the margin of victory could well have been 2-0 instead of 1-0 if only rain had not played the spoilsport on the last day of play at Wellington which left the visitors within sniffing distance of victory after the hosts had lost eight wickets in their effort to save the game.
Army winds up 'Mission Olympics'
Ritu Sharma
THE Indian Army's ambitious sports initiative launched three years ago to groom youngsters into potential Olympic medal winners has bitten the dust. The army's "Mission Olympics — Catch them young" initiative to hunt for gold, launched in 2005 after Lt. Col. Rajyavardhan Singh Rathore's silver medal for shooting in the 2004 Olympics, is to close down following orders from the top.
'I get along well with Mahesh'
Sania Mirza speaks to A. Roy about how her maiden Grand Slam Mixed Doubles title with Mahesh Bhupathi has given a fresh lease to her career
You made a great comeback from injury by winning the Australian Open mixed doubles. Were you expecting such a comeback?
I had worked hard for my comeback but the win at the Australian Open so early after I got back on the circuit was satisfying.