M A I N N E W S
1,882 suicides by farmers in Malwa belt in 15 yrs
Govt records, however, show near-nil figures
Jangveer Singh
Tribune News Service
Chandigarh, April 11
Families of farmers who committed suicide in Punjab may have to wait for a long time to avail themselves of the compensation announced for them by the state government.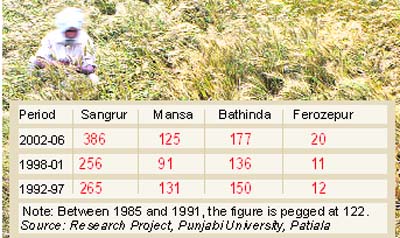 The Punjab government had announced a compensation of Rs 2 lakh to each of these families. But there is no unanimity on the number of such families in the state.

A parliamentary standing committee on agriculture had put the figure at two in the year 2006. But Inderjit Singh Jaijee, a social activist, who did pioneering work on the issue, had put the figure at 50,000.

Two years ago, the Bharatiya Kisan Union ( Rajewal) pegged the number at 13,000 but a more realistic figure has now been offered by a research project undertaken in Punjabi University, Patiala. The research confines itself to the four districts of Sangrur, Mansa, Bathinda and Ferozepur, where 1,882 farmers committed suicide between the years 1992 and 2006.

Significantly, findings of a study commissioned by the state government and conducted by PAU, Ludhiana, is yet to be made public.

District administrations have added to the confusion. The Deputy Commissioner of Sangrur is on record to have stated that there is no suicide victim in his district. Bathinda Deputy Commissioner Rahul Tiwari , when questioned, also said he did not have any figures of suicide victims. Ferozepur DC Megh Raj merely said that there had not been any debt-related suicide in the last one year.

Gurpreet Singh of Punjabi University, however, says that the research project, for which figures were compiled in collaboration with Bharatiya Kisan Union ( Ekta), dealt with only those suicides which were related to indebtedness. The four districts

were chosen because the incidence was the highest there.

The survey, he said, revealed that on an average per acre outstanding loan on suicide victims was Rs 72,000 and that loans were mostly obtained from non-institutional sources. In the case of farm labourers, the average loan was found to be Rs 57,000.

Professor Ranjit Singh Ghuman, who supervised the study, commented that most of the victims seemed to have a good public image. And although they displayed signs of stress, even distress before they committed the act, no form of psychological counselling was available to them.