Punjab's economy at crossroads
Sarbjit Dhaliwal
Rural Development in Punjab: A Success Story Going Astray
Eds Autar S. Dhesi and Gurmail Singh.
Routledge India.
Pages 533. Rs 795.
FOR long, Punjab remained a source of inspiration for rest of the states in India. The role played by its sturdy farmers to make the country self-dependent in the food sector is an amazing success story. Owing to its hard-working people, Punjab remained a leader state for several decades in the country. Following its rising status, various states strived hard to move ahead on the development front.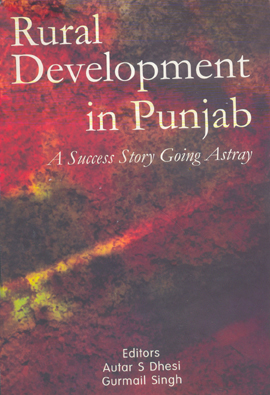 However, today, Punjab is no more a number one state in the country. States like Haryana, Gujarat, Karnataka have left it behind. Its amazing success story on the agricultural front has turned into a scary one. Suicides in the farm sector came as a shock for agriculture experts, economists and sociologists alike. The feel good factor created by the Green Revolution has faded. From a vibrant economy, Punjab has become a crisis-hit economy. Though its urban sector is not much better, the rural sector is bedevilled with all sorts of socio-economic problems.
Rural Development in Punjab, edited by Autar S. Dhesi, honorary visiting research fellow at the Coventry Business School, Coventry University, UK, and Gurmail Singh, vice-president, Indian Society for Agriculture Development and Policy, has gone deep to analyse the various aspects related to rural development and challenges and crises being faced by it.
Besides both the editors, eminent scholars and experts, including G. S. Kalkat, S. S. Johl, Sukhwinder Singh, Sucha Singh Gill, Jaswinder Singh Brar, H.S. Dhaliwal, A.S. Bhullar, Darshan Singh Tatla, Balbir Singh, Janak Raj Gupta, Manjit Singh, Lakhwinder Singh, G. S. Hira, R. S. Sidhu, Ramesh Chand, Darshan Singh Tatla and others, have made contribution to the book in form of articles on all issues related to the rural development.
The thrust of most of the articles is on agriculture and allied sectors. Without agriculture, to write about Punjab or its economy is obviously considered a futile exercise. The contributors have not only diagnosed the problems faced by it on the rural development front but have also suggested various ways to put it back on the path of development.
"The Indian rural sector in general has remained underdeveloped. Only recently, has it dawned on policy makers that without transforming the rural economy, it would not be possible to sustain a high rate of growth," writes Dhesi and Gurmail in the introduction to the book. Rural development implies more than the transformation of the agriculture sector. They assert that rural policy needs to encompass promotion of non-farm activities, investment in social and physical infrastructure.
"The rapid transformation of Punjab's agrarian economy is attributed mainly to institutional and technical changes steered by the state. However, due to the neglect of rural health, education and infrastructure since 1980s and specialised agriculture production, the full gain of agrarian transformation could not be realised," says Dhesi. Suggesting the new approach, he adds, in view of the land becoming scarce, human and physical capital accumulation and technical change should be the key components of the strategy for transition.
In his article, G. S. Kalkat dwells on six major issues related to Punjab's rural economy, conservation of water, soil and environment, viability of small farmers, improving productivity, neglect of rural education, sanitation and indebtedness. S. S. Johl argues that the only adequate access to education, healthcare and livelihood opportunities for all sections of society can ensure inclusive development. He has opined that bias in policies against rural areas needs to be corrected.
The impact of the Sikh diaspora on Punjab's economy, emigration from the state to different parts of the world, contract farming, post-Green Revolution scenario, public expenditure on education, health care, dynamics of Punjab's population growth, environmental problems are among the issues discussed in detail in different articles in the book. In fact, most of the issues related to rural development figure in this volume.
The book is worth possessing as it deals with the issues confronting Punjab now. It can also prove useful for policy makers as it dwells on the questions, that what should be the responses of policy makers and what could be possible options to tackle the existing crises to take Punjab to the next stage of development.