Brewing happiness
Parbina Rashid
Cappuccino Dusk
by Kankana Basu.
HarperCollins.
Pages 296. Rs 295.
THE sense of rootlessness is doing a lot of good to the literary world. It may have made V. S. Naipaul a grumpy old man with unpredictable behaviour (according to his book editor of Andre Deutsch, Diana Athill, Naipual hated his childhood in Trinidad, later, college life in England and now, dislikes everything about India).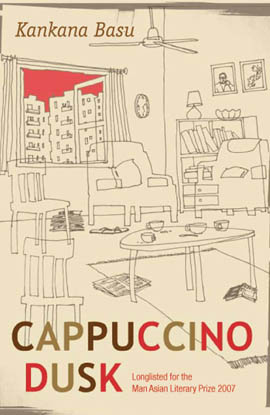 But then, the same feeling of restlessness perhaps shaped Naipaul, the literary wizard. Closer home there is Jhumpa Lahiri, successfully weaving stories on the nostalgia and struggles of Bengali families living in foreign shores. There is one more addition to the list — Kankana Basu. A writer who was hailed as a 'promising and a refreshing addition to the Indian English literary scene' for her short story collection Vinegar Sunday, has come out with her debut novel — Cappuccino Dusk. And she has maintained the same degree of freshness in this one too.
The backdrop is Mumbai and the storyline, which revolves around a Bengali family living in A-502 Pushpa Milan, is uncluttered. The starting is interesting enough to hook a reader's interest — the train journey of Pronoy and Ira Banerjee and their four children from Howrah station to Mumbai.
One can actually visualise the shabby compartment of Gyaneshwari Express and the family's effort to adjust to their surroundings, a journey that continues throughout — Ira changing into a chiffon-clad, sun-glasses wearing Bengali widow, serving mustard fish with Mc Donald's burgers; Soumitro, the elder son, a woman-hater falling in love with a Tamil girl, Bonny and Mishti losing all traces of the Bengali accent, Siddharth becoming an integral part of the cityscape as an architect, and grandmother Shreya, shedding all her prejudices against the Muslims — enough to welcome Mustafa Saifee into the family.
Though the characters are essentially Bengali, with a few variations here and there, anyone who has been uprooted from there native place during his or her lifetime can relate to the story — for the feeling is universal, one trying to assimilate into one's new surroundings while fighting hard to safeguard age-old culture and traditions one grows up with.
The conflict is too real, one losing sense as where to draw the line. However, the transition of the characters from an all-Bengali atmosphere to multi-cultural one is smooth, thus helping the reader to sail through the plot while engaging him with witty dialogues.
Though essentially a family saga, a few twists and turns come in the story in form of a kidnap, which leads Maltesh, the eccentric cartoonist, to find his biological father and a bomb blast, which wipes out Soumitro's love life even before it could bud. However, both incidents get erased from mind as soon as one comes back to A-502 Pushpa Milan and become part of their daily drama once again.
The story ends on a positive note, but the journey seems to continue, leaving the reader longing for another bout of warn banter of the Banerjee siblings, those wacky poems of Mustafa, heavy philosophy of Dibyendu which comes with a heavy dose of Bengali accent and, of course, the freshly brewed cuppa which is an important part of the evenings at the Banerjees. After all, a lot can happen over a cup of cappuccino.