Abhijeet gets candid about his professional tiff with co- judge Alka Yagnik and much more
It has to be a reverse process-unlearn collectively and then learn selectively. Also, don't go by the literal meaning of 'learning', for one can never mug up,only practice music. We realised the worth of these basic instructions given by playback singer Abhijeet Bhattacharya better when he chose a less-trained singer over a nearly perfect one. A simple comparison as an example explained the rest, "You don't send your 10-year-old child to a gym because that can hinder his natural growth. Similarly, when you send him to a music school that might condition him to a particular singing style, deterring him to make optimum use of his talent." So Abhijeet refuses to be a teacher or guru and prefers to play the role of a guide, "I advice kids how to improve on their singing and not thrust on them my singing style."
Playback sensation Alka Yagnik has a bag full of advice for parents whose kids are participating in reality shows
It's something we have heard so often from the bigwigs of music industry and here it was repeated yet again. This time, it was playback singer, Alka Yagnik, taking the turn, "I am not saying it for the sake of it. It's true, proved and established that singers are born. All you can do is polish a singer and not create one." And behind talking about the clichéd topic once again, there was a rather important motive, "It is imperative to make parents understand that every child cannot become a singer. If the child doesn't have the potential, please don't push him."

Matka chowk
Weather Netas
The weather Netas are playing tricks with us. Maybe, they know that the elections are on the way. While we are enjoying unusually cool breeze, the farmers are in utter distress over the future of the Rabi crop. It seems mercurial is more than a literal epithet to be ascribed to the weather Netas. Nothing seems predictable. Last year, we had unusually high rains in autumn followed by a rather bizarre, humid and warm winter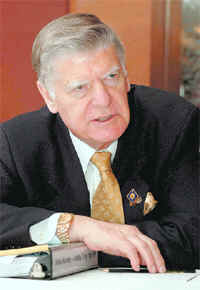 Samurai of goodwill
An act of goodness, initiated with confidence, sincerity and passion will always reap dividends. This is what each Rotarian believes in. No wonder it boast of more than 1.2 million Rotary members in 32,000 Rotary clubs in more than 200 countries and geographical areas. And one man who dedicatedly wants to carry forward the humanitarian service is John Kenny, the past dean of his local law faculty, a judge and a Rotary. As John takes over as the President of Rotary International on July 1, 2009, he shares issues that need to be nailed immediately, and things that Rotary can be proud of. In city, this major donor to the Rotary foundation and a bequest society member has the will to map the plan, which will give the world a better and a brighter tomorrow.
John Kenny. Photo by Parvesh Chauhan
Summer cool
Cooling just got even cooler! Well, that's what the ongoing exhibition put up by CII seems to suggest. Of course, there were the very ubiquitous air conditioners, refrigerators, plasmas, cutting across the mundane, the clichéd, the usual, we bring you something worth giving a second look or thought. To begin with, a spring summer inspired picture welcomes you in few of the initial stalls. That's Art cool series by consumer durable maker LG Electronics.


Mughal magic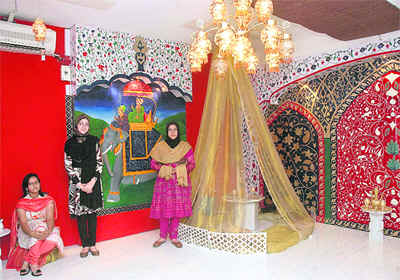 It's not a set out of a period movie but tricity fashion design students' creation of the courtly era Lifestyle photos: Parvesh Chauhan

Kala sangam
Two rising stars of Indian classical music and dance — Mayank Verma (Bhajans) and Raminder Khurana (Odissi dance) came to city to perform at Pracheen Kala Kendra's 140th Baithak Programme on Saturday evening. Hailing from the family of musicians, Mayank Verma is the son and disciple of Hari Charan Verma, a distinguished vocalist and an eminent broadcaster of India. He has received training in classical and light classical music from his father. Mayank beautifully combines the flavour of light classical in ghazals and bhajans, and has developed a style of his own.
Picks & piques
Shoppers' stop
Another rollicking rom-com, just right for an idle summer afternoon. Deviating from the usual trappings of the genre, Confessions of a Shopaholic, based on Sophie Kinsalla's novels, takes you straight in to the frenzied world of Rebecca Bloomwood (Isla Fisher), a girl who prefers stores to men coz they never disappoint.
For the first time in the city, begins a two-month art appreciation course Kala Bodhi at the Zazen Art Center-47, under the able guidance of D.C. Bhattacharyya; eminent art historian, former professor and chairman, Fine Arts Department, Panjab University, and former director fine arts museum. He is at present a consultant at Govt Museum & Art Gallery-10.