MC to go tough on buildings flouting norms
Chandigarh, April 13
After the death of four persons and huge loss of property in the recent fire incident in Sector 22, the Municipal Corporation authorities have woken up and decided to declare those buildings as unsafe which do not adhere to proper fire safety norms.
Three die after consuming liquor
Mohali, April 13
Three persons died after allegedly consuming alcohol at Rani Majra village near Mullanpur Garib Dass late last evening. The deceased, Balbir Singh, his father Harbans Balbir and Ranjit, had together consumed liquor and reportedly consumed some other substance. One of them died on way to the PGI while others died before that.
Round-up
Grain market body backs Bansal


Chandigarh, April 13
Hundreds of members of the Chandigarh grain market association today offered support to Congress candidate Pawan Kumar Bansal. They thanked him and the party for their efforts towards improving the conditions of markets in the area, which included better lighting and earmarked parking zones. Bansal said the grain market had prospered in the past few years.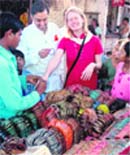 Bringing 'change' to city
Chandigarh, April 13
He is contesting Lok Sabha elections from the city as an Independent candidate and is "confident" of a win, for, inspired by Barack Obama, he claims he is the "change" this city desperately needs.


Ajay Goyal, an Independent candidate from the Chandigarh constituency, steals some time from his campaign to help his wife Mariya try out bangles. Tribune photo: Manoj Mahajan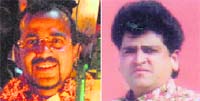 Underdogs by no means
Chandigarh, April 13
Expect the unexpected seems to be the mantra for the forthcoming Lok Sabha elections on May 13, for its all about twists and turns.

Haffiz Anwar-ul-Haq Ram Pal Hans
Ailing Mayor not to join work yet
Chandigarh, April 13
The illness of Chandigarh Municipal Corporation Mayor Kamlesh would restrict her to attend the office and campaign for the Congress in Lok Sabha elections for some more days. Though she accepted the invitation to be the chief guest of the Martyrs Day function at fire station, Sector 17 tomorrow, it seems that her indisposition will not allow her to attend the office.
Polls: Regular power supply back in Mohali
Mohali, April 13
Elections have come as a boon for residents of Mohali with the power supply being regular even as shortage of water has begun to pinch people in certain areas of the town.
Mohali fire brigade cries for staff, equipment
Mohali, April 13
The Mohali fire brigade cries for updated vehicles, hi-tech equipment and adequate staff to deal with fires even as public safety is kept at a stake in the town which is expanding rapidly and where high-rise buildings have been planned for the future.
Emergency repair of airfields
CSIR develops new procedure
Chandigarh, April 13
A cost-effective procedure for emergency repair of bomb craters during war has been developed by the Council for Scientific and Industrial Research (CSIR). The process involves use of recycled materials.
Discharge of untreated sullage into Mohali rivulets declines
Mohali, April 13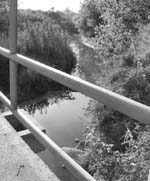 Protests by residents of Mohali over Chandigarh discharging its untreated sullage into seasonal rivulets have started paying off. For the past over 10 years, nauseating smell, emitted by the untreated sullage, has made life miserable for residents. But now, the level of the discharge into the rivulets has suddenly decreased.





Sullage discharge into the leisure valley choe has decreased in Phase VIII, Mohali. A Tribune photograph
Product weight misleading, complains customer
Panchkula, April 13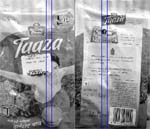 A customer at the discount retail shop of Amartex Shoppers World, RK Garg, was shocked when he realised that he had paid for purchasing 245 gm of tea leaves when the actual quantity in the packet was 215 gm.



A packet of Taaza tea leaves sold by Amartex Shopper World with sticker claiming that it was 245 gm against the net weight mentioned by manufacturer as 215 gm. A Tribune photograph
'Missing' shopkeeper to return today
Was in Rajasthan to visit Balaji temple
Panchkula, April 13
Raj Kumar, a resident of Sector 19, who was missing from his home since Saturday morning, has reportedly gone to visit the temple of Balaji in Rajasthan. His family members said they received a phone call from him this afternoon.
City among top 5 healthy cities in India
Chandigarh, April 13
According to a survey conducted by a private soap manufacturing company, Chandigarh comes at the fourth rank as per child health quotient. The city beautiful closely follows Lucknow and Kolkata, both cities at the top place, and Bangalore at the second place.
Companies do brisk business
Chandigarh, April 13
The four-day exposition on air-conditioning and refrigeration — Coolex 2009 — concluded on a buoyant note here today. The exposition reportedly generated business worth Rs 17 crore and attracted a large number of visitors.

Ghazal evening for senior citizens
Panchkula, April 13
The delicacy of feeling and melodic expression in the velvety voice of music composer and singer Deepak Sharma brought alive the romantic aura of ghazal during a live concert at Senior Citizen Council hall here today.


Deepak Sharma performs at a senior citizen function in Panchkula on Monday. A Tribune photograph
Classical vocalist Surinderpal Singh honoured
Chandigarh, April 13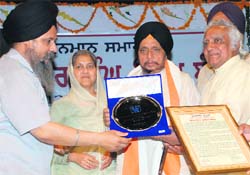 Amrit Kirtan Trust and Punjab Arts Council teamed up to organise a felicitation ceremony to honour the legendary classical vocalist Surinderpal Singh popularly known as Singh Bandhu with the "Shiromani Sangeetkar award -2009" at the Randhawa auditorium here today.



Classical vocalist Surinderpal Singh being honoured at the Randhawa auditorium in Chandigarh on Monday. A Tribune photograph
Dolly Guleria enraptures audience
Panchkula, April 13 The grandeur of Punjabi musical culture and patriotic fervour marked the Baisakhi celebrations as singer Dolly Guleria added melodic fragrance to the function held here today.
PNB celebrates foundation day
Chandigarh, April 13
The foundation day of Punjab National Bank (PNB) was celebrated by its employees at the Sector-17 branch today.
Sankirtan Sammelan concludes
Chandigarh, April 13
The 41st Hari Naam Sankirtan Sammelan, which was organsied at Pracheen Mandir Sidh Shri Baba Balak Nath and Maa Vaishnao Guffa at Sector 31, concluded on Sunday.


PU drags feet in cheating case
Chandigarh, April 13
When it comes to taking decisions on important matters, forming committees seems to be Panjab University's first choice. The university according to sources has once again formed a committee to decide on the further course of action in the matter of production of a fake certificate by a Ludhiana-based girl.
Laptop theft: PU expels accused
Chandigarh, April 13
Arvind Kumar, prime accused in the Panjab University hostels' laptop thefts case was expelled from the university today.
Imparting education commercially?
Chandigarh, April 13
With commercialisation hitting on every field, "imparting education" has become a major source of income for literates. Various coaching classes, private and even government colleges have started taking high fee especially in the name of "NRI" category.