Tractors yes, but Badals too donít own a car
SP Sharma/Rajay Deep
Tribune News Service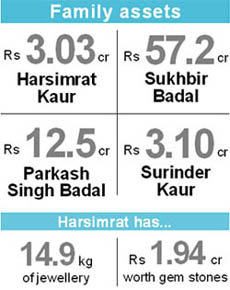 Bathinda, April 13
Harsimrat Kaur Badal, candidate of the Shiromani Akali Dal (SAD) for the Bathinda Lok Sabha seat, possesses 14.93 kg of jewellery and precious stones worth Rs 1.94 crore. Her mother-in-law Surinder Kaur Badal has 4.48 kg of gold and precious stones worth Rs 58.29 lakh. She has filed her papers as the covering candidate of the party.
According to affidavits filed by the two, the family of Punjab Chief Minister Parkash Singh Badal has moveable and immovable assets worth Rs 76 crore. However, the richest among them all is the Deputy Chief Minister and husband of Harsimrat Kaur, Sukhbir Singh Badal. He owns individual assets worth Rs 57.27 crore followed by assets worth Rs 12.59 crore of Parkash Singh Badal.
According to details in the two affidavits, the family possesses jewellery worth Rs 2.63 crore. Parkash Singh Badal owns jewellery only worth Rs 6.55 lakh, while Sukhbir has yellow metal worth Rs 4.35 lakh.
No member of the family possesses a motor vehicle but they own four tractors worth Rs 14.83 lakh. Their other assets are worth Rs 4.39 crore of which the lionís share of Rs 3.21 crore is with Sukhbir Singh who has loaned Rs 1 crore to his wife Harsimrat Kaur, Rs 1.59 crore to Gurmehar Majithia and Rs 19 lakh to his brother-in-law Bikram Majithia.
The family owns agriculture land worth Rs 13.07 crore. Besides, they own commercial and residential buildings worth Rs 32.63 crore. They possess non-agriculture land worth Rs 2.88 crore.
Interestingly, the four family members have cash amounting to only Rs10 lakh, while their bank deposits are Rs 1.13 crore. They have bonds worth Rs 18.98 crore of which Sukhbir Singh has invested Rs 5.63 crore in Orbit Resorts Pvt Ltd.
Parkash Singh Badal has invested Rs 1 crore in the resort, while Surinder Kaur has bonds worth Rs 48 lakh.
No member of the family has outstanding loans against him or her.
According to the affidavits, individual assets of Harsimrat Kaur are worth Rs 3.03 crore, Sukhbir Singh worth Rs 57.27 crore, Surinder Kaur worth Rs 3.10 crore and Parkash Singh Badal worth Rs 12.59 crore.
Except Harsimrat Kaur, the three other family members have landed property also in Haryana and Rajasthan.
In her affidavit, Surinder Kaur Badal has mentioned that a vigilance case against her under the prevention of the Corruption Act was pending, as the Supreme Court has stayed the proceedings.