IPL kits tailored in Ludhiana
Anshu Seth
Tribune News Service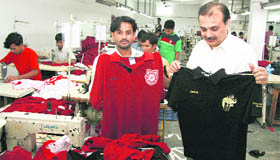 Former world badminton champion Arun Dhand, official supplier of jerseys to SRK's Kolkata Knight Riders and Preity Zinta's Kings XI Punjab. Photo: Rajesh Bhambi
Ludhiana, April 13
Living by its reputation of being the Manchester of India, the city has taken the lead in tailoring the official outfits for the crickets teams of IPL (Indian Premier League).
Ankita Impex is manufacturing sports wear for Reebok, the official sponsors of Shah Rukh Khan's 'Knight Riders' and Pretty Zinta's 'Kings XI Punjab' while Knitwell Apparels Pvt Ltd is making sports wear for Addidas, the sponsors of 'Mumbai Indians' owned by Mukesh Ambani and 'Delhi Daredevils' of DLF.
The global spirit of cricket prevails in the industrial city as is evident from the fact that two Sri Lankan professionals Ramita and Rangna heading the production operations for outfits of Mumbai Indians and Delhi Daredevils are the biggest supporters of both the teams.
Following the completion of their orders the duo even avail special leave to watch the matches.
Bhupinder Singh, official spokesperson of Adidas while revealing the team spirit of workers involved in the making of sports outfits, said, " It so happened that Mumbai Indians demanded the new kit on a short notice of two days and the men were on the job even before they were asked. The workers associate themselves with the teams as the core members and the enthusiasm that they work with is commendable."
The workers feel privileged as they are often provided match passes by the respective companies.
Skills when coupled with personal touch do the wonders as Rajinder, Ajay, Lalit, Rajiv and Prince of Ankita Impex spend hours to ensure quality, perfection in sizes and designs. For Rajinder, the production manager at Ankita Impex, meeting Yuvraj in person is 'the cherished dream'.
Despite having failed to hand over the outfits personally during the last match in Mohali, Rajinder is hopeful of shaking hands with his hero. "At the same time I have a feeling of pride as I touch the outfits to be worn by Sourav Ganguly and Chris Gale," said Rajinder.
Arun Dhand, owner of Ankita Impex who himself is a former champion of badminton feels, "Sports lives in the heart of every Punjabi and being a sportsperson I always wanted to venture into manufacturing of sports outfits which I have been doing for Reebok since the commencing of their India operation."
Added Sanjeev Talwar, the owner of Knitwell Apparels Pvt Ltd, "Right from workers to the helpers, every individual wears the caps worn by their respective teams and they don't forget to mention their association to the navy and red combination of Delhi Daredevils and turquoise and satellite blue of Mumbai Indians."