M A I N N E W S
PM, Advani face-off in Parliament
Ajay Banerjee
Tribune News Service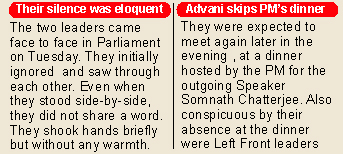 New Delhi, April 14
The ongoing war-of-words between Manmohan Singh and leader of Opposition LK Advani hit a new political low here today.
At two separate functions here today even social niceties were missing. While the Prime Minister and Advani were cold to each other at a function today, the latter did not turn up at a dinner hosted by Manmohan Singh for the outgoing Lok Sabha Speaker Som Nath Chatterjee. The erstwhile colleagues of Chatterjee form the Left parties also did not turn up.
It started at the function to mark the birth anniversary of BR Ambedkar today. The Prime Minister and the leader of the Opposition were standing side-by-side in Parliament but did not share a word. They shook hands briefly but the warmth was clearly missing. In clear snub to Advani, the Prime Minister went about greeting others and later paying floral tributes to the portrait of Ambedkar, he made a quick exit. Advani was left standing at the exit point with the Speaker.
Manmohan Singh preferred to chat with Vice-President Hamid Ansari with Advani sitting between the two leaders.
Advani, in the past few days, has been attacking the Prime Minister calling him the "weakest Prime Minister ever" in his campaign speeches. Yesterday, the mild-mannered Prime Minister took a shot at Advani saying the BJP "iron man" was quick to melt when held to the fire during the Kandahar hijacking incident.
In the evening, Advani skipped farewell dinner for Lok Sabha Speaker. The top leadership of the Left parties, including CPM general secretary Prakash Karat and Politburo member Sitaram Yechury and Forward Bloc national secretary G Devarajan, also did not attend the dinner. The Left had severed their ties with Chatterjee when he refused to resign from his post before the trust-vote in July last year after the left withdrew support to the UPA government.