| | |
| --- | --- |
| A traffic jam near ISBT rotary in Sector 22, Chandigarh on Wednesday. Tribune photo: Vinay Malik | Leaves strewn across the road after an evening duststorm in Chandigarh on Wednesday. Tribune photo: Vicky Gharu |
Smouldering Tinderbox-I
Motor markets —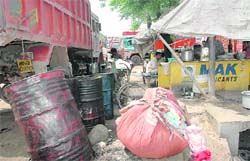 A recipe for disaster
Chandigarh, April 15
The recent death of four persons in a devastating fire in Sector 22-B market has not been a reason enough for the administration to wake up to the high risk of fire accidents in city markets owing to deficient fire safety norms.

Inflammable material lies unattended at the motor market in Mani Majra. A Tribune photograph
Dying Charity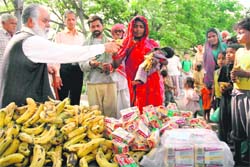 Down, but not out
Chandigarh, April 15
Old habits die hard! This adage seems apt for city-based philanthropist Jagdish Lal Ahuja, who even after shutting down the langar that he ran outside the PGI and the GMCH-32 for nine years, distributed biscuits and fruits today to hundreds of people who came looking for a meal.
Jagdish Lal Ahuja hands out fruits and biscuits to the poor at GMCH-32, Chandigarh, on Wednesday. A Tribune photo
A clarification
This is to clarify that in the article titled "Ambedkar's birth anniversary celebrated" dated April 14 2009, the event was organised by Dr. Ambedkar study circle and was held at Sector 37. Chief guest on the occasion was Justice Jitender Chauhan who highlighted the need to educate girl child and promote health education. — TNS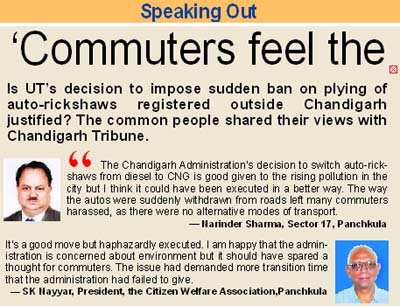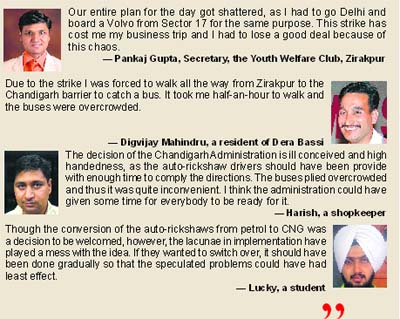 Army circumvents CIC ruling on releasing inquiry details
Chandigarh, April 15
Circumventing the decision of the Central Information Commission (CIC) asking the Army to supply a copy of the court of inquiry proceedings to the brother of a deceased soldier, the Army has referred the issue to the Ministry of Defence for legal opinion.
Retrieving money from Swiss accounts
Gandhi family causing delay: BJP wing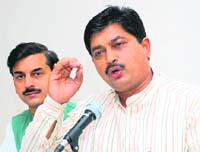 Chandigarh, April 15


Pegging the quantum of Indian black money in the Swiss banks up to Rs 70,000,00 crore, president of the Bharatiya Janata Yuva Morcha (BJYM) Amit Thakar today accused the Gandhi-Nehru family of "pressurising" the Congress-led government in going slow on the issue of bringing back the money to India.
President of the BJYM Amit Thakar addresses mediapersons along with Vineet Joshi (national media cell in charge) at the Chandigarh Press Club on Wednesday. Tribune photo: S Chandan
Mock drill soon to check arrangements
Chandigarh, April 15
Chandigarh Election Commission held a special meeting with all Assistant Electoral Registration Officers (AERO) to review the arrangements regarding the forthcoming Lok Sabha poll scheduled for May 13. The meeting held here today was convened by RK Rao, Additional Chief Electoral Officer and Returning Officer of Chandigarh Parliamentary seat.
Voters without photo IDs
Produce document, cast ballot
Chandigarh, April 15
Voters who do not have the electors photo identity cards (EPIC) of the Election Commission can exercise their right to franchise on the production of a document establishing their identities.
700 take part in science seminar
Chandigarh, April 15
To commemorate the World Biomedical Laboratory Science Day today, biomedical laboratory technologists of Chandigarh and its adjoining states organised its Vth Chandigarh Chapter and scientific seminar-cum-CME at PGI here today.
Mega projects: Home secy meets CVC officials
Chandigarh, April 15
The much-publicised Central Vigilance Commission (CVC) inquiry into the controversial mega projects of the Chandigarh administration, which saw the slugfest between the UT Administrator and his adviser Pradip Mehra reaching a point of no return, is finally gathering momentum.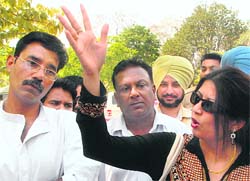 Fiza gets raw deal from DGP office
Chandigarh, April 15
Anuradha Bali (now Fiza), the estranged ladylove and the second wife of Chand Mohammed, alias Chander Mohan, today accused the Punjab police of inaction on her complaint lodged against Chand.

Fiza addresses mediapersons outside the Punjab police headquarters in Sector 9, Chandigarh, on Wednesday. Tribune photo: Vinay Malik
Wheat crop on 22 acres destroyed in fire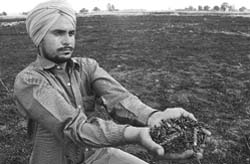 Mohali, April 15
Wheat crop on over 22 acres, which was ready for harvest, was destroyed in a fire, causing a loss of around Rs 2.25 lakh to farmers of two villages here today.




A farmer shows burnt wheat after a fire broke out in a field at Safipur village, Mohali, on Wednesday. Tribune photo: Vicky Gharu
Faulty planning poses health risk to society members
Chandigarh, April 15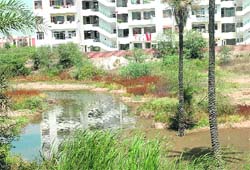 The "dream project" of the UT Administrator and Punjab Governor, Gen SF Rodrigues (retd), for rehabilitating slum-dwellers at Sector 49 in 4-acre land has virtually shattered the "dreams" of members of Goodwill Enclave Society-49, who want to live in good conditions.

Rainwater on the adjoining area of Goodwill Enclave Society-49, Chandigarh, that has forced residents to leave in insanitary conditions. Tribune photo: Manoj Mahajan
RLA auction defies recession
'0001' taken for Rs 4.86 lakh
Chandigarh, April 15
Are Chandigarhians reeling under the effects of global recession? Well if one had a chance to witness the auction of "VVIP" numbers of CH 04 J series at the RLA today, they would answer it in the negative. For, there are still many in the city who are willing to pay the cost of a new Hyundai or a Swift car to claim a fancy registration number.
e wild wild web
Web 3.0: Next generation Internet
The web now has version numbers. About three years ago, amid continued hand-wringing over the dot-com bust or crash of 2001, Dale Dougherty dreamed up something called Web 2.0, and the idea soon took on a life of its own. In the beginning, it was little more than a rallying cry, a belief that the Internet would rise again. But it has become so strong that it succeeded in challenging the traditional (mainstream) media at least in the West. As the Web 2.0 is on way to percolate in India, the bloggers are already abuzz with talk of the Web's next generation, Web 3.0.
Power dept truck catches fire
Chandigarh, April 15
A driver and a lineman of the UT electricity department had a miraculous escape today when the mini truck of the UT electricity department, they were traveling in, caught fire in Sector 21 here. The flames were doused within minutes by the fire tenders, which reached the spot.
CTWA mourns Umrao's death
Chandigarh, April 15
Executive committee members of the Chandigarh Tug of War Association have mourned the death of veteran Congress leader and sports administrator Padam Bhushan Umrao Singh.
Tributes paid to Hindi litterateur
Panchkula, April 15
Noted literary luminaries from Tricity paid rich tributes to legendary Hindi litterateur, Padmabhushan Vishnu Parbhakar, at a commemorative function organised by the Haryana Sahitya Akademy here today.
18 registered letters go missing
Zirakpur, April 15
Thieves have not even spared a post office now. A theft was reported from the Dhakoli post office where bundles of posts were found to be missing on Wednesday. According to sources, postmaster of the Dhakoli post office, Raj Kumar, stated that he had locked the post office on Monday evening.


Council grants Rs 3 lakh for workshops
Patiala, April 15
Punjabi University's NSS co-ordinator, Dr Paramvir Singh, has been assigned the task of organising five workshops on "Disaster Preparedness" in different districts of Punjab by the Punjab State Council for Science and Technology (PSCST), Chandigarh.
PU don to attend Queen's reception
Chandigarh, April 15
Gaurav Gaur, a city-based Commonwealth Youth Ambassador for Positive Living, has been invited to attend Queen Elizabeth's reception in Buckingham Palace, London, on April 28. The reception is being hosted in commemoration of the 60th anniversary of the Commonwealth.
Update students with modern trends: Rodrigues
Chandigarh, April 15
Punjab Governor and UT administrator SF Rodrigues while presiding over a meeting of board of governors of Punjab Public School (PPS), Nabha, here today called for involving students in the day-to-day management of the institution to enable them to imbibe qualities of good governance and ownership.