'Defamatory statements' against Indian Army
Angry PC demands apology from Modi
Dinesh Kumar writes from Ahmedabad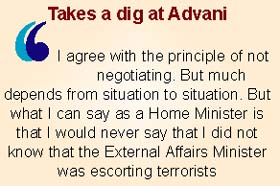 An aggressive Union Home Minister P Chidambaram took on Gujarat Chief Minister Narendra Modi headlong demanding from him an apology for making "defamatory statements" against the Indian Army, which had lost seven soldiers while battling terrorists in Charar-e-Sharief in the Kashmir Valley 14 years ago in May 1995.
Chidambaram, who addressed a news conference here on Wednesday said the set back suffered by the Army in the encounter during which the Charar-e-Sharief Sufi shrine was burnt down by a gang of terrorists led by Pakistani national Mast Gul did not allow him to "belittle the Army and to tell lies". Chidambaram was reacting to Modi's remarks that the security forces had first surrounded the shrine occupied by terrorists, fattened them and then allowed them to escape.
Chidambaram did not lose an opportunity to take a dig at BJP leader LK Advani when asked to clarify his views on whether or not he agreed with the policy of negotiating with terrorists. "I agree with the principle of not negotiating. But much depends from situation to situation", he said adding "But what I can say as Home Minister is that I would never say that I did not know that the External Affairs Minister was escorting terrorists".
The focus of Chidambaram's 45-minute news conference was, however, more on economic growth and economic development in a state, which was known for business, trade and industry. Trying to strike a chord with the business community in the state, he said. "This was of concern to a state like Gujarat, which produces captains of industry".
Chidambaram, who had manifestos of both the political parties before him, read selective portions from both to point out, for example, how not a word on industrial growth figured in the BJP manifesto.
He similarly compared the rate of economic growth under the Congress-led UPA with the BJP-led NDA saying that they had been able to deliver 8.5 per cent economic growth compared to 5.8 per cent under the NDA. "Handling economy requires a high degree of political and economic competence to manage both growth and an economic down turn. And between Dr Manmohan Singh and Advani, certainly Manmohan Singh was definitely more confident".
He also accused the Pakistani Interior Minister of being in the "habit" of demanding more evidence on the 26/11 Mumbai terror "every 15 days", Union Home Minister P Chidambaram took a dig at him saying that "if he is incapable of investigating the issue, then all I can say is that I feel sorry for them".
"We have conducted our investigations. The evidence is now in Pakistan. They have to conduct investigations", he said adding tongue-in-cheek, "Let them allow me to conduct the investigations (in their country) if they cannot do it themselves". Asked to respond on Kasab's mother's plan to come to India for her son's trial, Chdambaram said, "What more proof do you want that he is a Pakistani".
He denied reports that 15 local residents had been arrested in Mumbai for their involvement with the 10 Pakistani terrorists, who had carried out the gory massacre in Mumbai on 26/11. "This is totally false. Only two persons have been arrested for their complicity", he said.
Asked about his apprehensions about the safe conduct of the general elections, Chidambaram said that they had reports that Naxalites had drawn an elaborate plan to disturb the election process in Naxal-affected parts of the country.
Asked to comment on Army chief General Deepak Kapur's statement that women terrorists may have sneaked into Kashmir, Chidambaram said none of the insurgents killed so far in encounters with infiltrators on the Line of Control had been women. "Some infiltrators may have still managed to cross into the Valley. But I cannot say if they are men or women", he said.
Shiv Kumar adds from Mumbai :
Chidambaram said the Congress was hammering home the fact that the terrorists like Maulana Masood Azhar of Jaish-e-Mohammad, who were released following the Kandahar hijack were responsible for subsequent terror attacks against India.
Chidambaram also hit back at the BJP for its attacks on his government for not executing Afzal Guru, who was sentenced to death in the
Parliament attack case. The BJP, Chidambaram said, was looking at Afzal Guru's case through the "lens of religion".
The Home Minister said there were 22 persons on death row and Afzal Guru was number 22.
"The death sentence (regarding the oldest inmate on death row) was awarded on June 24, 1987 and confirmed by the Supreme Court on April 22, 1998. The BJP came to power in March 1998. Why did the BJP-led government not execute any of them?," Chidambaram asked.
He further added that the inmates on death row included those convicted in the Rajiv Gandhi assassination case.
Chidambaram said the mercy petitions of all those sentenced to death were examined slowly "whether one likes it or not". This was the reason why the BJP could not carry out any executions when it was in power, Chidambaram said.
"If you are picking out one convict you are looking at the case through the lens of religion. A convict is a convict, he is not a Hindu or a Muslim," the minister added.
Dwelling on the terror attacks in Mumbai, Chidambaram admitted that there were problems in sharing of information by various security agencies.
"Now we have closed these gaps in the working of these agencies which will ensure better intelligence sharing on terrorism, Naxalism and other illegal activities," Chidambaram said.