Comic turn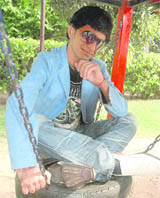 With an item number in the upcoming flick Meri Padosan, comedian Khayali is all set to move beyond gags to grooving
He did a Johnny Lever in comedy shows, a Rakhi Sawant in item numbers and now is excited to do a Govinda in the coming days. Comedian Khayali just doesn't believe in saying no to anything without giving it a try and has reasons, "Success hasn't come easy to me. It has taught me many lessons of life, one of which is humility. Declining offers would suggest I am taking success for granted." For a change, we saw the comedian doing some serious talk. No surprise that he is happy about doing even item numbers in the movies.
Character with a cause
Tricity lad Harish has made it to the small screen with a part in a serial on female foeticide
He is the newest tricity kid on the telly block. Harish Verma has just joined the bandwagon of stars adorning tinsel town with a role in serial Lado— Na Ana Is Des on channel Colors.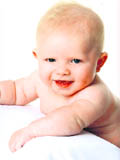 Foreseeing future
Smiling kids three times more likely to have happy marriages
Move over crystal balls, tarot cards and horoscopes, the success factor of your marriage may lie in a family album. That's the conclusion of researchers who claim that kids with the brightest smiles in family photographs are more than three times likely to have a successful marriage than those who frown. Even snaps taken of family outings when the child is as young as five can show a glimpse of the future, the study revealed.



Band of boys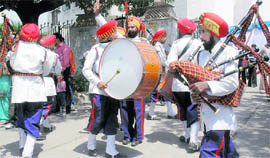 This band adds sound and style to marriage festivities in the tricity
Lifestyle photo: Parvesh Chauhan
Cyber sins
Social networking sites 'could harm moral values'
Social networking sites may help people stay connected in today's fast-paced world but they can also harm moral values, says a new study.
Renee writes
Snacking woes
I am a food addict. At 27, not only I am a nighttime eater with a serious addiction for snacking but also have grave weight problems. The night is what really gets me going and even if I starve myself the whole day, I binge late nights. It's either while watching a movie, I get up in intervals to snack or while reading a book.
Playing Punjabi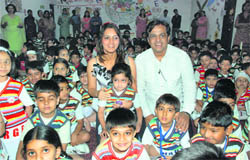 Gurdas Maan's Mini Punjab, slated for release this week, brings a dash of animation
Gem of Punjabi music and heart of many people, Gurdas Maan's film Mini Punjab is the first Punjabi film with animation. It was showcased to children of The British School, Panchkula and actor Jivida Astha and comedian Vivek Shauq entertained the children and spent some time at the School premises.

Actor Jivida Astha and comedian Vivek Shauq entertained the children of The British School, Panchkula, on Wednesday

Pet theory


Natural instinct
Dogs are instinctively clean animals. If they can avoid it, they would rather not soil themselves or their usual eating and sleeping areas. Dogs also naturally develop habits of where they would like to eliminate. For example, dogs that have a habit of eliminating on grass or dirt would rather not eliminate on concrete or gravel. You can use these natural tendencies for rapid and successful house training.

Read & Taylor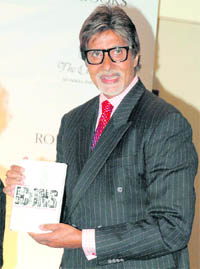 Bollywood actor Amitabh Bachchan released a book ICONS- Men and Women who shaped today's India, edited by Anil Dharkar in Mumbai on Tuesday. PTI Photo
Pet Pick
Bow Wow
People for Animals, Chandigarh has the perfect companion for anyone who is ready to be loved unconditionally and just forever and ever:
Sprite bujhae only pyaas
Riding on the passion of Cricket amongst the youth, brand Sprite, as an associate sponsor and the official pouring partner of Kolkata Knight Riders (KKR) announced the launch of its new communication initiative for the second season of the Indian Premier League, 2009.
Hello, what's this frenzy!
SRK calling a deluge of response in Dubai following a telecom ad
It has been raining phone calls and personal messages for Bollywood superstar Shah Rukh Khan in the UAE within days of an ad campaign featuring him with his local mobile number appearing on the television screens.

Fit for the role
Arshad Warsi becomes a fitness freak
Arshad Warsi, who is known for tickling audiences' funny bones as Circuit in the Munnabhai series, is turning into a fitness freak. "Running for 45 minutes every day is a must. I also see to it that I have balanced meals at regular intervals five times a day since it is not advisable to keep your stomach empty for long hours at a stretch. It's a different thing if you are on a fast," said Arshad.
Screen over stage


I prefer cinema to theatre any day: Anurag Kashyap
Filmmaker Anurag Kashyap may have produced the play The Skeleton Woman featuring his real-life partner Kalki Koechlin, but he maintains that he prefers cinema as a medium to express his emotions. "I prefer cinema any day to theatre. When I was acting on stage, I loved the stage. But now I would choose filmmaking," Kashyap, who was groomed on the capital's experimental stage, said.
Rest less
Priyanka back to work after three days in hospital
Bollywood actor Priyanka Chopra, who was admitted to a hospital here for a stomach infection and exhaustion, has been discharged and is back on the sets of Ashutosh Gowariker's What's Your Rashee?
Rapsody
It's amazing to see Akshay Kumar rapping: Bohemia
American Punjabi rapper Bohemia, who has become synonymous with Bollywood superstar Akshay Kumar's voice after singing the title song of Chandni Chowk To China and a number in 8x10 Tasveer, says he was amazed to see the actor rapping.


Lifestyle invites responses from readers on the following issue:
Courtesy the decline of the joint family system, old folks find themselves lonely and lost in the twilight years. What can we do to make life comfortable for them?
Please email the responses to lifestyletribune@gmail.com or post along with your photo and contact number to 'Relatively Speaking', Lifestyle, The Tribune, Sector 29, Chandigarh. The best few responses will be published.