Naxal violence mars Phase-I poll
Blasts & bullets take 18 lives in four states
Ajay Banerjee
Tribune News Service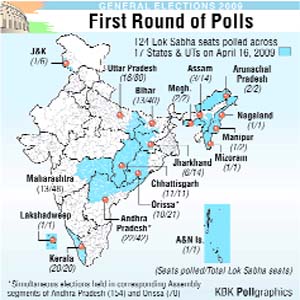 New Delhi, April 16
The first phase of polling in 124 constituencies across 15 states and two union territories was completed today amidst coordinated attacks in six states by Naxals. A total of 18 persons, including five election officials and 11 security personnel, lost their lives in these attacks. Meanwhile, polls in the strife-torn north-east passed off peacefully and with a high polling percentage.
However, polling per centage was not satisfactory in the Hindi belt of UP and Bihar and could upset several pre-poll calculations in the caste-ridden politics of these two states. The southern states of Kerala and Andhra Pradesh witnessed a healthy turnout.
The Naxals struck in parts of Bihar, Jharkhand, Chhattisgarh, Orissa, eastern-Maharastra and north-eastern AP to disrupt the polls. It was a show of strength for the Naxals who demonstrated which areas of the country they controlled totally.

The Election Commission confirmed this evening that a total 71 polling stations in the Naxal-belt were affected by violence. Polling was conducted in nearly 1.83 lakh polling stations in this phase. Out of this, about 76,000 polling stations were in the Naxal-belt. A total of 25 choppers of the Ministry of Defence and the Ministry of Home were pressed into service to deploy polling staff and to ensure safe re-collection of the electronic voting machines (EVMs) from in-accessible polling stations.
Among the major attacks was a landmine blast under a bus ferrying BSF personnel near Ranchi, killing nine persons and injuring 10 others. Four poll officers were kidnapped in Latehar, Jharkhand. Two home guards were killed in Bihar's Gaya district while six people, including two women, were injured in the attack. The attackers also looted four police rifles and EVMs. In Chhattisgarh, the Naxals attacked polling booths in Bijapur and Dantewada districts and killed five persons in land mine blast in Rajnandgaon. Two polling parties were forced to return from Jagampal village in Bijapur. Blasts also took place at polling booths in Gotabanur and Narayanpur in Orissa while a police base camp was attacked at Binagundha in Maharashtra's Gadchiroli district.
A re-poll has been ordered in 17 of the polling stations located in north-eastern Andhra Pradesh. Here Naxals did not allow any voting. DG of the BSF ML Kumawat termed today's incidents as the most violent series of attacks. The first phase of polling was seen as the most challenging one by the security forces as this covered most of the Naxal strongholds. Deputy Election Commissioner R Balachandran has praised the commitment of the forces which faced the Naxal attacks right since morning. He said an incident in one part of the constituency does not mean that the entire constituency was affected.
Generally, polling percentage hovered between 46 to 50 per cent in the Naxal-dominated belt while the north-eastern states voted with vigour. Each of the states recorded a healthy voter turnout with Nagaland showing the way with a whopping 84 per cent polling. Trouble-hit Assam polled 62 per cent while in Manipur anywhere between 66 to 68 per cent of the voters turned out to vote. The EC released provisional figures and the final count will be known when the polling parties come back to base. Some of them will have to be ferried back on elephant back, boats, choppers, etc.