Land prices jump three-four times along International Border from Kathua to Akhnoor
As guns fall silent, realty booms
VILLAGES along the Indo-Pak border have seen the worst of times — four wars, regular skirmishes, numerous brushes with militancy, mine-infested fields and mindless shelling and firing from across the border. But the five-year silence along the International Border has done wonders for prices of agriculture land. From a time where no one even thought of buying land for peanuts, prices have increased three to four times.
This 10-foot high bandh protects against enemy fire and has made farming a reality. — Photos Inderjeet Singh & Anand Sharma
Win some, lose some
MC wants land along GT Road cleared to widen it, govt land prices would mean huge losses for investors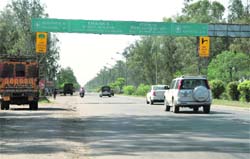 THERE is some good news and some bad news for the large number of property investors along the portion of Grand Trunk Road that passes through the city limits of Ludhiana. The good news is that the notorious traffic snarls on the GT Road passing through Ludhiana could soon be a thing of the past. The road is being widened — in some places, upto 100 feet area is being cleared.
The main GT Road, Ludhiana.

Tax tips
S.C. Vasudeva
This column appears weekly. The writer can be contacted at sc@scvasudeva.com
Calculating HRA
n Deduction limit 25pc of income or Rs 2,000
n Include DA, exclude allowances
n Deduction: What you pay, you get
n Data insufficient to work out I-T liability
n Capital gain on plot sale may be taxable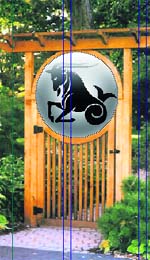 Now, a horoscope for your house!
ASTROLOGY, palmistry and what the future has in store for you has always held people's fancy. But how about the horoscope of the dwelling you stay in? "Every house has a story to tell about what the future holds for each of its members," says Neeta Sinha an astro-architect who has pioneered the concept of astrology in architecture. House horoscope takes into account the general layout of the place like where it is situated, whether it is one or multi-storeyed, the number of windows and doors available, ownership pattern — rented, privately owned or a company flat — and the owners name to suggest things related to the house. "Based on these things, I determine what is wrong with a house, how much good is present in it and how to rid it of the bad," she says.
GROUND REALTY
Unconcealed Delight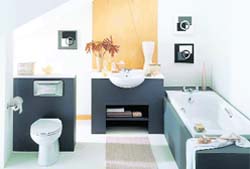 Turn your bathroom into a glamour room. Go in for a concealed cistern with a wall-hung seat, writes JAGVIR GOYAL, as he conducts a technical scrutiny of what's available
THE human desire to have vast open spaces around never dies. Rather, it symbolises the deeply ingrained craving for freedom and fresh air — more and more space always brings with it a feeling of freedom and fresh air.
DLF wants to surrender five SEZ
REELING under a cash crunch, the country's largest real estate player, DLF, has approached the government on surrendering five of its nine IT-ITeS notified special economic zones (SEZ). Parsvnath has already put on hold its 12 IT/ITeS SEZ projects.

REALTY BYTES
Ascent Buildtech to invest Rs 120 cr in two housing projects
REALTY firm Ascent Buildtech said it would invest about Rs 120 crore in developing two group housing projects over the next three years in the national capital region. The company would offer flats of different sizes between Rs 11.07 lakh and Rs 25.4 lakh in one of its projects — Satya Ville De — in Ghaziabad.
n Mumbai to host international fair
Realty tops max investment list
Metros still hot favourites: Bangalore leads followed by Hyderabad, Chennai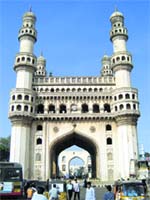 METRO rail, sewerage and real estate are the top areas attracting maximum investment in the infrastructure sector in metros across the country in the last six months, industry body Assocham said.