ĎFashion weeks must have their own specialityí
Sreya Basu chats up Wendell Rodricks, who showcased his latest collection Mondrian Minimalist at the recent Kolkata Fashion Week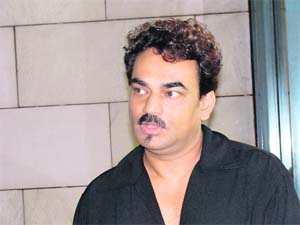 (Above) Ace designer Wendell Rodricks and
(below) his collection The Mondrian Minimalist being showcased during the Kolkata Fashion Week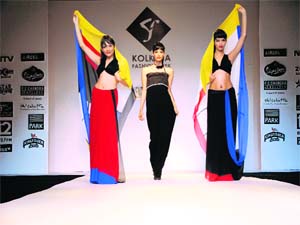 What is Mondrian Minimalism?
This collection is my tribute to Dutch painter Pieter Cornelis Mondrian and legendary designer Yves Saint Laurent. Mondrianís works were based on his theosophy studies and his unique geometric abstractions wherein all curved lines were eliminated. As a part of the Cubist movement in Paris, he dominated his canvas with squares, lines, blocks of primary colours and black grids. He created oppositions of vertical and horizontal and oppositions of dimensions. Laurent created the Mondrian collection for Fall Winter 1965/66 and immortalised his art. Though my new collection is inspired by them, I have done it my way. I have made the entire collection in black and white, and have put the primary colours in accessories and shoes.
Why do you always lay emphasis on the colours black and white?
The way my designs look, I donít think anybody in the country even do that. Most designs in the country at the end resort to embroidery. I feel if I can design without embroidery, thatís my strong point. My designs depend on pattern and what better way to show the cuts than in black and white. Minimalism can be expressed in many ways. I go by black and white because they are my personal favourites.
What do you think about fashion shows in India?
I feel all fashion weeks must have their own speciality like international film festivals. The film fest in Toronto showcases a particular genre of films that is different from the Venice film fest. Similarly, different fashion weeks should have their own genre of fashion statement so that a designer knows the right place to showcase his design.
You have always been inspired by the laidback mood of Goa.
I came to India in 1988 and when I started my work in 1991, the kind of designs I made and the philosophy I gave were new to the country. I gave India minimalism, eco-friendly and sense of resort. All these were put to mainstream adding the flavour of Goa. I used this pool of emotions and mixed it up with my sense of cutting (which is based on unique geometry) to match up to the theme of the fashion week.
How are the fashion designers, including you, coping with recession?
You will be amazed to know that we had our best sale ever in the last season. There is absolutely no recession as far as I am concerned. Besides, I have even moved to retailing at Westside stores across the country. Look, I donít think Indians are so stupid to live like western people, where they live on credit. An Indian will only buy a bag if he can afford it. He wonít buy a bag worth Rs 80,000 and pay it up in 10 years. We donít have the credit crunch. But what we can do right now, is to buy intelligently. Thatís why I have kept the pricing of my Mondrian collection affordable without compromising with the quality. Now if you want, you can buy a Wendell Rodrickís for Rs 1,700, which is why I am looking at retailing at Westside.
Do you think Indian designers are making a splash internationally?
To go international you need a very big investment plan that will tie you over seven to 10 years. Going by the articles of international fashion journalists, Armani took 40 years to build his brand. He is an old man now. Our generation of Indian designers are definitely not going to go international`85may be the next generation, if they decide on a long-term investment strategy.
What do you think is the USP of Indian fashion internationally?
I donít want to talk about international market`85I donít care. We are a very good country with strong buying power and we are going to be the worldís largest youngest consumers in exactly 10 years. I think they should look at us not the other way round. All foreign brands want to come to India because of the large middle and upper-middle class consumers. They can see the trend coming. I donít think we should waste out time thinking about international markets.
What about your next collection?
I have already moved to my next collection`85itís on knits. I had been exploring a knitswear line at Westside and turned out to be very good. So want to take it forward.
What is going to be the fashion trend in the next 2-3 years?
Indians would want to wear more of their clothings than international ones in the next two-three years. Thatís going to be a big change in trend.
ó India Blooms News Service