In the news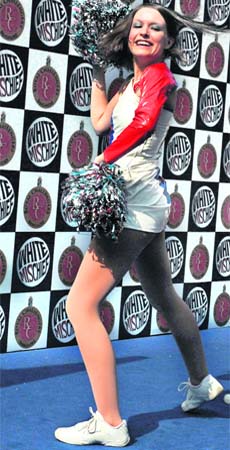 Say Cheers: A cheerleader for the Bangalore Royal Challengers performs during a preview in Bangalore. Owner Vijay Mallaya has hired 24 members of the US-based cheerleader group Varsity for the second season of the IPL, which starts today in South Africa. Mallaya has renamed the group White Mischief
Photo AFP
BEYOND AZLAN CUP
After the win in Ipoh, the Indian hockey team should not rest on its laurels as stiffer challenges are ahead, writes Prabhjot Singh
WE are a nation of emotional sports buffs who get charged at the slightest provocation — be it a win over Pakistan in hockey or cricket or overseas Test series win or a crushing defeat in a T20 match. Depending upon the state of our minds, we tend to treat our sports stars as heroes or zeroes. Right now, the nation is jubilant over the win in the just-concluded Azlan Shah Cup Hockey Tournament, our first in 14 years. May be because the wins are so few and far between that even getting to the podium in a decimated tournament makes the hockey fans feel as if the team has won the world championship again.
Bouquets & brickbats for Buchanan
Former Australian coach John Buchanan's theory of rotating captains in IPL matches has raised a few heckles, but the plan has also found some takers, says Abhijit Chatterjee
WHILE there is no denying the fact that the twenty20 format is still in a nascent state, the cricketing community has been a house divided after Australian coach John Buchanan floated the theory of rotating captains. This has brought many questions to the fore about the game that has already changed to such an extent that oldtimers find it difficult to keep track of what goes on in the field. Buchanan's theory of revolving captains has raised the heckles of many players. If it is implemented, it remains to be seen whether it will set new standards for other teams to follow in the shortest version of the game or not.