Screen presence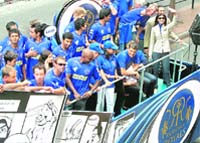 Restaurants in the city are all set to feed the hunger for cricket. Quite literally!
Out of sight is certainly not out of mind when it comes to cricket. So, even though the IPL has moved out of the country and we will not be able to catch the action live, the excitement hasn't dropped by an inch.
Write note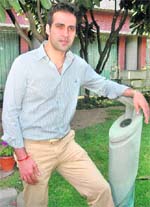 Friday saw journalist and author Aatish Taseer in the city at for a reading and signing event of his book Stranger To History: A Son's Journey Through Islamic Lands at Capital Book Depot-17.Born in 1980, Aatish was raised by his Sikh mother in Delhi and his Pakistani father remained a distant figure, almost a figment of his imagination, until Aatish crossed the border when he was twenty-one to finally meet him.

He lives in Delhi and London. Apart from a translation of Saddat Hasan Manto's stories, 'Stranger To History' is his first book. This book is part memoir, part reportage and travelogue; an investigation of the question: What does it mean to be a young Muslim in the twenty-first century?
— Aatish Taseer/Photo: Parvesh Chauhan

Vibing with verse


Admired by art lovers and connoisseurs for his myriad talents, that of a prolific poet, passionate painter, popular playwright, plus acclaimed stage radio TV and film actor, the Mohali-based theatre director, Vijay Kapoor, maintains a judicious balance between his passions and professional commitments as the vice-president of an MNC here.
— Photo: Pradeep Tewari
Beyond books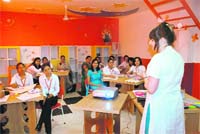 Dr Sue Lyle from the UK on Friday conducted a workshop at The British School-44 in the city and interacted with the teachers, making them aware of the modern-day teaching techniques and skills. She guided the teachers to challenge the children thinking for high order thinking skills and insisted upon making children more robust learners, a need of the hour.
Spruce up your salad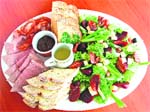 Add spice to your hot days with cold salads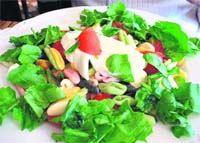 Come summer and the colour and the flavour of the season is distinctly cool. And when it comes to food who can resist a sumptuous raw cold salad, whether plain or topped with a dash of honey, vinegar or lined with black pepper. Healthy and appetising this is one form of fare that can never fail. So, this summer we get for you some interesting and healthy ways to make your cold salad hot in flavour.
Bon Appetit


The citrus king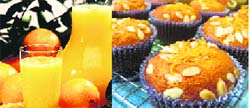 Looking through my notes of the past winter, I discovered to my utter dismay that the poor orange had been sidelined this season by wicked old me! Not a word had been dedicated to this sunny fruit! When I spotted oranges with my vendor, (albeit smallish ones), I decided, better late than never! My grey cells recollect that these smaller orbs are invariably very sweet, and perfect sized for the individual orange baskets described below. em, or dive under the car bonnet on a scrubbing-spree, armed with innocent, unsuspecting orange halves! Give me the good old orange to peel, pull apart the segments and aim straight into the gob! The instant bursting of hundreds of miniature sacs and the release of the sweet juice flooding my mouth! Mmmmm….
Face in the crowd


Shah Rukh and Co to seek out new Bollywood starlet at IPL games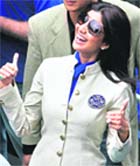 Shah Rukh Khan, Preity Zinta and Shilpa Shetty will be among those watching all the women attending the Indian Professional League (IPL) games in South Africa over the next five weeks to find the newest Bollywood starlet. The IPL has announced a Bollywood movie role for one lucky South African lass as it prepares to launch the five-week Twenty20 extravaganza here on Saturday with an inaugural double header.
If Big B launches a TV channel...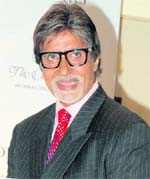 The 'Shahenshah' of Bollywood Amitabh Bachchan may have dismissed the news that he is planning to launch a TV channel but that hasn't prevented a Pakistani news magazine from speculating about the would-be venture. The make-believe account in Instep magazine of how the channel will work with the "original Don at the helm" is hilarious. The potential breaking news: "Aishwarya pregnant!"
Resident political analyst: "Amar Singh of the Samajwadi Party, given his close friendship with Amitabh. The banned topics: Slumdog Millionaire would top the list.
Role gone


Telugu hit Arundhati is all set to be remade into Hindi and the makers wanted to cast Anushka Sharma in the title role. But the Rab Ne Bana Di Jodi heroine couldn't be finalised for it because of some misconceptions. "They needed someone strong, robust, young and determined and very north Indian as the lead in Hindi. They really wanted Anushka Sharma. She was perfect. But the producer was under the impression that she's under contract with Yash Raj Films and unable to do any outside film," said a source close to the film. — Anushka Sharma
Foolish no more
Have matured enough to not make a fool of myself: Raveena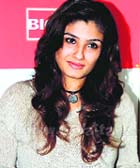 Actor Raveena Tandon, who is all set to make her Bollywood comeback with Revathy's Chassni, says that she has evolved enough to not make a fool out of herself by accepting roles not meant for her. "Your career follows a cycle. The roles that actresses like Kareena (Kapoor) and Genelia (D'souza) are performing is something I cannot do at this stage of my career. If I agree to do such roles, I will only make a fool out of myself," Raveena said. "I played characters relevant to my age in films like Satta, Ghulam-E-Mustafa,and Shool. In Daman, given a good role I even agreed to play mother to Raima Sen," she said.
On front foot

For a cricket-crazy country, the IPL brings a fresh innings of business opportunity as shopkeepers in
the city line up bats for sale. Lifestyle Photo: Parvesh Chauhan
Right: Bollywood actor Mallika Sherawat arrives as a guest at the premiere of the film The Informers in Hollywood, California, on Thursday. Reuters /Fred Prouser

United Colours of Cricket

Says cheers to IPL season with an array of special mocktails at Hotel Mountview-10. From Mid On, a pineapple coconut slush, to Third Man, blue crasao with fresh lime and soda, to Covers, mint passion with green waves, these bright concoctions celebrate the rang 'n' umang of IPL./Pitch on a platter:The IPL-special dishes have been christened Full Toss, Leg Break, Stumps and what have you.
Lifestyle photos: Parvesh Chauhan

Agli aur agli