PUNJAB
HARYANA
JAMMU & KASHMIR
HIMACHAL
REGIONAL BRIEFS
NATION
OPINIONS
LETTERS
BUSINESS
SPORTS
WORLD
Advt
Advt
Own the most prestigious address in Ludhiana.
Exclusive residential
Studio Apartments / Villas & Plots at reasonable prices. For details contact : 9815007979, 9815000122

Sunday, April 19, 2009, Chandigarh, India
Updated at 3:00 am (IST)

CEC's Parting Shot
Collegium should appoint ECs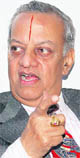 New Delhi, April 18
As he prepares to leave his office, Chief Election Commissioner N Gopalaswami today defended his controversial recommendation for the removal of Navin Chawla, who will succeed him on Tuesday and suggested that future appointments of Election Commissioners be made by a collegium and not the government.


CEC defends action against Varun

Suicidal to stagger polls in Maoist areas
Cong too responsible for Babri demolition: Lalu
Patna/New Delhi, April 18
In controversial remarks, RJD chief Lalu Yadav has said Congress too was responsible for the demolition of the Babri Masjid as it did not save it, prompting quick rebuttal by the Congress today which said the comments were unfortunate.


Cong, BJP slam RJD chief
Sonkar Case
Jaunpur may not go to polls in Phase-II
Lucknow, April 18
Election Commissioner SY Quraishi today did not rule out the possibility of countermanding election in Jaunpur where the Indian Justice Party candidate, Bahadur Sonkar, was found dead hanging from a tree. Addressing mediapersons, Quraishi said: "Taking a serious view of the matter, the EC has sent two IAS officers from New Delhi to independently cross check the matter so as to ensure free and fair election."
CAST YOUR VOTE
Should the government aggressively seek details of Indian account holders in Swiss banks?

Your Vote
Matters


It is better to queue up early than wait till closing time.

CHANDIGARH
LUDHIANA
BATHINDA
JALANDHAR
DELHI
LIFESTYLE
DEHRADUN
DEHRADUN PLUS
HIMACHAL PLUS
HARYANA PLUS
J&K PLUS
JALANDHAR PLUS
AMRITSAR PLUS
BRIDES WANTED
GROOMS WANTED
OTHERS
HOW TO PLACE ADVTS
EDUCATION
JOBS & CAREERS
HEALTH & FITNESS
SCIENCE & TECHNOLOGY
REAL ESTATE
SPORTS
TRIBUNE CLASSIFIEDS
Kasab planned to attack Malabar Hill
Mumbai, April 18
Mohammad Ajmal Amir Iman, alias Kasab, the lone terrorist taken alive after the November 26 terror attack case in Mumbai, and his associate Abu Ismail, who died in the operation, had plans to strike at VIP locality Malabar Hill area. According to special public prosecutor Ujjwal Nikam, the plan could not take off as only Ismail knew the details and he was killed in a police encounter.
LeT renews threat of suicide attacks
Srinagar, April 18
Pakistan-based terror outfit Lashkar-e-Taiba (LeT) on Saturday threatened to launch suicide attacks during the Lok Sabha elections in Jammu and Kashmir, asking people to participate in the poll process "at their own peril".
Suicide bomber kills 23 in Pak
Islamabad, April 18
A suicide bomber today rammed his explosive-laden vehicle into a police check post killing 23 people, most of them security personnel, in Pakistan's troubled NWFP. In second such attack on security forces within a week, the bomber targeted the check post located in Doaba area of Hangu district, which is surrounded by the troubled Aurakzai, Kurram and North Waziristan tribal regions.
NDA 60 Glorious Years
1857 The First Challenge
E - Revolution 2005:
A Two-day IT conclave
Assembly Elections - 2005
Turbans
Chandigarh is 50
125 Years of The Tribune
India: The Tasks Ahead
India at Sixty
A Tribune Supplement
EARLIER FEATURES
India resumes Gorkha recruitment after two-year lull
Kathmandu, April 18
After a lull of two years, India has resumed the recruitment of Nepalis for its Gorkha regiments after a full nod by the Maoist government that had in the past pledged to halt all hiring in the Indian and British armies. Indian Ambassador to Nepal Rakesh Sood had met Nepal's Maoist Prime Minister Pushpa Kamal Dahal Prachanda earlier this year to discuss the recruitment issue.
Two Indian Americans in Obama's team
Washington, April 18
President Barack Obama has formed a three-man team, including two Indian Americans, to help break Washington's "bad habits" of wasteful spending and move recession-hit America from recovery to prosperity. "If we're to going to rebuild our economy on a solid foundation, we need to change the way we do business in Washington," Obama said in his weekly address Saturday.


'Rise of Obama, India, China could trigger violence in US'

New York, April 18
After protests against Indian steel and a right-wing radio show host calling Indians "slumdogs" for doing outsourced American jobs, India's rise could be a factor in triggering radical violence in the US, warns an intelligence report.
Kasab alleges torture, retracts confession
April 18, 2009
Naxal violence mars Phase-I poll
April 17, 2009
India votes today
April 16, 2009
EC bans exit polls
April 15, 2009
Jaunpur IJP candidate murdered
April 14, 2009
It's Manmohan vs Advani
April 13, 2009
PM, Sonia target Lalu, Left
April 12, 2009
PM says he was not consulted on Tytler
April 11, 2009
Tytler, Sajjan shooed out of fray
April 10, 2009
All eyes on Sonia, court
April 9, 2009