The maternal mortality rate (MMR) in Orissa's Kalahandi district is 364 per 100,000 live births as against the state's 358. The main reasons are early marriage, low intake of vitamins during pregnancy and poverty. The young mothers find a solution to their problems at public hearings, where health service providers are held accountable, says Manipadma Jena
EVER since she gave birth to a stillborn boy, Sajana Sabar (20) has not spoken a word. A resident of Uchalla village in Golamunda block of Kalahandi district in Orissa, Sajana lives 75 km away from the nearest hospital. For the delivery, her family had to hire a jeep for a sum of Rs 1,000 to get to the subdivisional hospital in Dharamgarh. There, the doctor demanded a fee of Rs 1,000, and then another Rs 2,000 to pay off the medicines and food bills. Sajana's father-in-law, a marginal farmer, was compelled to sell off the entire year's stock of paddy when the first offer came along. The family spent over Rs 6,000 on the delivery but ailing Sajana came home—from the brink of death.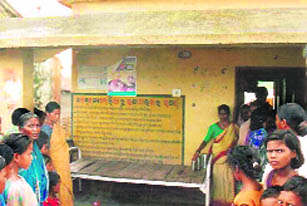 The ANM's home at Uchalla village has a cot in the open verandah for examining pregnant women Photos: WFS

Mana Jhankar (24) is a daily wage earner in Kuturukhamar village of Bhawanipatna block, 12 km from Kalahandi district. Her husband sells puffed rice, and the couple finds it difficult to make ends meet.
Understandably, when Mana was expecting, an institutional delivery was out of the question. The couple could ill-afford the government hospital expense of Rs 2,000. When Mana first experienced birth pangs, her husband was 15 km away and unaware that his young wife was soon to endure a horrific labour. The baby emerged in a sitting position — rear portion out, head and feet stuck inside. By the time Sabita Nayak, an auxiliary nurse midwife (ANM), reached Mana's house, the expectant woman had bled for five hours. Desperate to get her patient to a hospital, Sabita pleaded with the bus drivers on the highway to ferry them across but to no avail.
Nayak then boarded a bus to return with an ambulance. Mana's tangled umbilical cord had to be cut into several pieces to extract the asphyxiated foetus. She was hospitalised for a week.
Lakhmani Sabar of Uchalla was a mother by 17 — just a year into her marriage to Dana, a daily wage earner. Their only surviving child, a daughter, is now 14. Motherless, the teenager is testimony to the district's high maternal mortality rate (MMR). Lakhmani's subsequent four pregnancies had resulted in stillbirths and eventually her death. She had not been given a single antenatal check-up and was administered just one dose of tetanus toxoid, instead of the requisite three.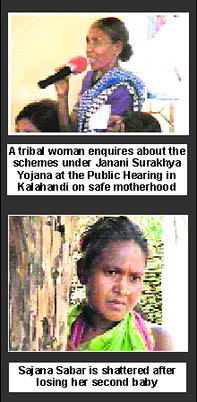 Such tales are common in Kalahandi, where the official MMR is 364 per 100,000 live births as against the state's 358. But the district could well have an MMR of anything between 400 and 500 if the unregistered cases are factored in, states Dr B.C. Roy, assistant district medical officer, Family Welfare Department. According to NGO White Ribbon Alliance (India), MMR goes up to 620 in rural Orissa — a level comparable with that of sub-Saharan Africa.
The three main reasons for a high MMR in Kalahandi — where nearly half of the populace comprises vulnerable Scheduled Tribes and Castes — are early marriage, low institutional deliveries and low intake of vitamin supplements during pregnancy. Poverty, educational backwardness and lack of health education and awareness — only 29.3 per cent of women are literate — are the other causes. Ironically, six out of 10 maternal deaths in the district are avoidable, says Roy.
But why do expectant women have to suffer at all? At a jan sunwaye (public hearing) held under the janani suraksha yojana (JSY), Sajana's mother-in-law arrived with a pertinent query. Embittered ever since she lost her grandchild, she asked: "Why should families like mine be compelled to sell land and foodgrain to get basic health services that should be ours by right?"
At the hearing, Sabita, as a medical professional, wanted to know why basic health services were so expensive and difficult to access for Kalahandi's below poverty line families, who form 62.71 per cent of the population.
Given this ground situation, the public hearing offers the most, and perhaps the only, effective communication method for women whose lives are at risk. They give them the opportunity to directly place their concerns in an open forum before rights commissions such as the State Commission for Women (SCW), decision-makers and planners.
In the long run, public hearings help improve health service delivery, hold service providers accountable and build up a case study-based social audit system for policy changes. The 700 to 1,000 women who attended the public hearings certainly realised the power of their voice.
Numerous complaints about defunct primary health centres (PHCs) have also been made. Other issues raised included corrupt practices and bribery, medical negligence, poor health facilities, avoidable pregnancy-related deaths, lack of quality medicines provided by the government and denial of medical services on grounds of caste.
The hearings have already had a promising impact. The World Health Organisation in its 2007 advocacy mapping and analysis of maternal and infant survival in developing countries has included Orissa's public hearings as one of the case studies along with approaches from Pakistan and Tanzania. They have also resulted in a Rajya Sabha discussion on the Centre's action plan in order to help the SCW in its safe motherhood social audit programme in the tribal/rural belts of the state. The hearings have also led to prompt and effective redressal of complaints. Official show-cause notices have been issued to health functionaries.
According to many beneficiaries, public hearings have resulted in fewer instances of abuse and of having to bribe health workers. More people now seek healthcare facilities. The Daringbadi PHC records show a 100 per cent increase in institutional deliveries. In Kalahandi, more mobile health units are being deployed to provide relief to the Sajanas, Manas and Lakhmanis of the district. — WFS