| | | |
| --- | --- | --- |
| | NEIGHBOURHOOD | |
Poll lures farmers to speed up harvesting
Gurdeep Singh Mann
Tribune News Service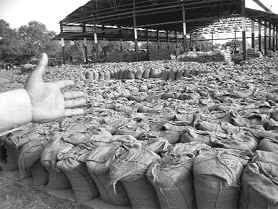 A large number of wheat sacks lying at the Grain Market in Fatehgarh Sahib on Sunday. Photo by the writer

Sirhind/Bassi Pathana
Polls have left its impact on the harvesting and lifting of wheat crop as farmers in different areas have speeded up the process of harvesting and selling of their crop in grain markets.
Farmers of villages of Fatehgarh Sahib, Khanna and Rajpura have accelerated the process with an aim to be free during polls. As a result, the wheat crop arrival in different grain markets have increased many times as compared to arrival of wheat last year.
Asia's biggest grain market, Khanna has witnessed the flow of wheat is more than double. Last year, procuring agencies have so far procured 4 lakh quintals but this year it has crossed the mark of 8.15 lakh quintals.
Market committee officials give various reasons of more inflow and also admit that polls are also one of the major reasons.
In small mandis of the area, the wheat arrival has even increased 10 times as compared to the last year. The sub-mandi's of the Khanna grain market has witnessed a steep rise in the arrival.
"Elections are one of the reasons that farmers have speeded up process of wheat selling. Earlier, there was panic among farmers due to the inclement weather", said Harnam Singh of Hargana village, who came to sell his crop in the mandi.
Grain market officials, expressing concern over the sudden rise in wheat arrival, said the situation went out of control when farmers brought wheat with moisture content of more than 12 per cent. When they were told to bring dry wheat, they started drying it in the mandi which led to space crunch.
There was also panic among farmers that they might not be able to retain labourers as they were always eager to attend political rallies to help their respective candidates, mostly in lieu of money. "It is not farmers but problem of farm labourers that people want to sell off their produce as soon as possible," added Gurbhej Singh from Sirhind.
The farming community also dislikes hot-blowing winds which are going to increase in coming days and farmers would like to complete harvesting before that.