(P)RAISE in times of recession
Jigyasa Kapoor Chimra
In these times of meltdown, when most of the companies are cutting costs and salaries, thus lowering morale, there are some who're taking up initiatives to raise employee motivation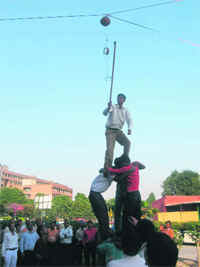 Top limit

: Fortis employees take part in the matka phod competition

In this world of stiff competition and high work demands, we are all losing peace of mind, family ties, personal space and, of course, health. With little or no time left for social interaction or what kids of the 80's generation were blessed with — daddy, mummy's precious time, life has become a virtual treadmill for all, where everyone's running to meet the rising demand and supply curve of cut-throat corporate competition. But waking to the mounting pressure of work and realising the importance of a light head works wonders for work, some of the companies have found a way out with employee-oriented, fun and health management programmes. We check out what's happening on the corporate front.
"There are a lot of programmes that we guys keep doing. Lately, we had a yoga class. And that was not the usual yoga, it was a class that taught employees to do yoga on chair," says Rupesh K Singh, head corporate communication, Reliance Anil Dhirubahi Ambani Group. He adds, "Corporate guys handle a lot of pressure and have long sitting hours, so this exercise surely helps."
Talking about other programmes he says, "Other than this we have regular health seminars, outings with families and more."
At Fortis, Mohali, they not only take care of their patients but their employees too. Says Dr Ashish Banerji, director, Fortis Hospital, Mohali; "Every single Monday, we have a meeting of all employees, where we have varied activities for the employees that include games, dance, singing and lot more. Other than this, to keep the talent alive in all of us, we have a competition called Fortis Idol, wherein all employees can participate and the winner competes with employees from across the country." Hmm…that sounds something like apna Indian Idol!
Well, it's not only the employees who are cared for but there families are included in. "Every year, we have a Family Day. And this year, we had almost 3500 persons at the Thunderzone, celebrating togetherness. We had joy rides, snacks, water bathes etc on the house for all the employees and their families."
Now we can say, in some companies work and play sure goes hand in hand.
Adds Moina Arora, financial planning manager, HSBC, "It was just some months ago that the company took an initiative to show all the employees including their families Slumdog Millionaire. A pleasant change, it not only keeps the staff going, but bonds them better with the organisation." She adds, "It's a feel-good factor. And for the employees, they definitely feel wanted. Our organisation has an appreciation party every month and a family party when we have a good month-end."
Well, this banker from a private bank in the city says, "Every company is not there to bond with the employees and their families. In our bank, it's not a company initiative in general but depends on a particular branch. Though our branch does some programmes, it does not include families."
Still better, as we surely know, there are many who are just driven by work.
jigyasachimra@tribunemail.com