3 of family hurt in slum fire
Max New York Life office gutted
Chandigarh, April 21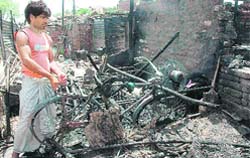 Three members of a family, including a 12-year-old boy, were seriously hurt while two goats and around 20 chickens were charred to death in a fire that broke out in a slum in front of Sector 25 Cremation Ground late last night. In another incident, the entire second floor of Max New York Life office in Sector 8 was gutted early this morning.
Huts that were damaged in a fire at Sector 25 Colony in Chandigarh on Tuesday. A Tribune photograph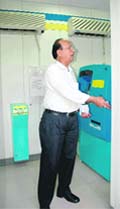 Man trapped in ATM cabin
Asked to pay Rs 7,200 for causing damage
Chandigarh, April 21
For Raj Kumar Pardasani, a resident of Sector 11, Panchkula, also a heart patient, withdrawing money from an ATM proved to be a double trouble. He was trapped in an ATM cabin and when after a lot of toil he managed to come out by breaking open the door, he was detained by bank officials for damaging their property.





Raj Kumar Pardasani narrates his predicament at the ATM cabin in Sector 17 in Chandigarh on Tuesday. Tribune photo: Manoj Mahajan




CIC asks UT to implement RTI Act fully
Chandigarh, April 21
In a decision that may bring transparency in the working of the Chandigarh Administration, the Central Information Commission (CIC) has issued directions to the administration to properly implement the Right to Information Act, 2005.
Round-up
Cong, BJP garner support


Chandigarh, April 21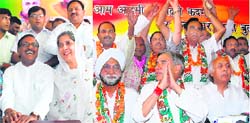 The Congress and the BJP candidates from the Chandigarh Parliamentary seat - Pawan Bansal and Satya Pal Jain - today got support from different quarters.
BJP's Satya Pal Jain with SAD leader Harjinder Kaur in Chandigarh on Tuesday; and (right) NCP's Gurbachan Singh with Congress' Pawan Kumar Bansal. Tribune photos: S. Chandan
Cong rally kicks up row
Panchkula, April 21
The rally organised by the Congress in a public park in Sector 4 here this evening has kicked up a row with the BJP and the INLD raising objections over it on the plea that it was held without the permission from the administration. The rally was addressed by Congress candidate and sitting MP Selja Kumari.
Poll-related violence in Mohali
Mohali, April 21
In the first election-related violent incident, at least 20 supporters of the SAD-BJP and Congress were booked in two separate incidents in Phase IX last night.
A debate that never was
Chandigarh, April 21
With elections around the corner, the political parties never miss a chance to get publicity. Given even a small opportunity to sing praises for their leaders, the party workers jump at it.
Fire Safety Week ends with fire show
Chandigarh, April 21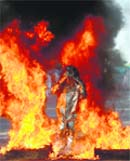 With the number of fire incidents increasing each day in the city, the UT fire and emergency department organised a fire show marking the concluding day of the Fire Safety Week at the Sector 17 fire station today.





A fireman in action at the fire show in the Sector 17 fire station, Chandigarh, at the concluding day of fire safety week on Tuesday. Tribune photo: Manoj Mahajan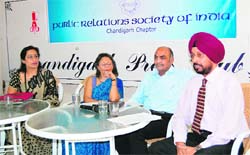 Interactive session marks PR day
Chandigarh, April 21
The Chandigarh Chapter of Public Relations Society organised an interactive session to mark the National PR Day today.




Adity Dua (second from left) attends an interactive session on the National PR Day in Chandigarh on Tuesday. A Tribune photograph
20 pc duty imposed on Chinese soda-ash
Chandigarh, April 21
Finding increased imports of soda ash into India from China responsible for causing market disruption in the domestic soda-ash industry, the government has decided to impose a "safeguard duty" of 20 per cent on imports from China.
Tribune employee bereaved
Chandigarh, April 21
Lekh Raj, father of Raghubir Singh, employed in The Tribune as a Fitter at Bathinda, died here yesterday. He was cremated at his native village Jaswantgarh (Panchkula), today. He is survived by wife, two sons and two daughters. — TNS


Kabir lad wins Abacus trophy
Chandigarh, April 21
Panchkula boy Tushaar Batheja won the national champion trophy at the 11th National Abacus competition held in New Delhi on Sunday.
PU alumnus is Additional Director, CBI
New Delhi, April 21
Balwinder Singh, an IPS officer of 1976-batch of the Andhra Pradesh cadre, has taken over as Additional Director in the Central Bureau of Investigation.
PU sets up hotel mgmt institute
Chandigarh, April 21
Panjab University has set up a new institute, the University Institute of Hotel Management and Tourism (UIHMT), to start two new courses i.e. BSc in hospitality and hotel administration and BSc in tourism from the academic session 2009-10.
Punjab teachers stage dharna
Chandigarh, April 21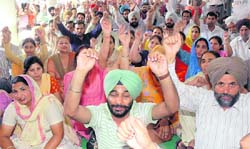 Members of the Government Teachers' Union, Punjab, today staged a dharna outside the office of the Director Public Instructions (DPI) (Secondary), Punjab, in Sector 17 here in support of their demands.


Members of the Government Teachers' Union, Punjab, raise slogans outside the office of the DPI (Secondary), Punjab, in support of their demands in Sector 17, Chandigarh, on Tuesday. Tribune photo: Parvesh Chauhan