Word Play
It is not only the content of our communication but also its delivery that matters. Just being able to converse in English does not make you a winner.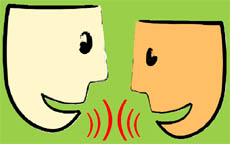 Ten ways to up verbal value...
WE may have a handful of leaders advocating a ban on English education but most acknowledge that the ability to communicate — whether in English or any other language — enhances your personality and career growth. We all have people with whom we have to work to get things done. Our ability to communicate with superiors, clients, customers, peers and subordinates can enhance our effectiveness or sabotage us.


Careercature
Sandeep Joshi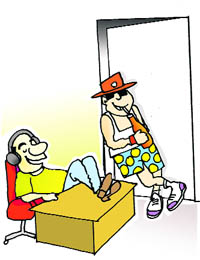 The boss wanted us to feel easy and comfortable.
Have computers, will need server specialists
Increased use of PCs and Internet is leading to a demand for people who can set up, maintain and service these. Career prospects in the hardware and networking industry hold immense scope
THIS is a time when the global economy is witnessing a phase of slowdown. Various industry segments are affected directly or indirectly by this world phenomenon. However, there are still industries and career options that have not been touched by this crisis. The hardware & networking industry is one such industry.
Apna Sapna Money Money
The best things in life are not always free. As lifestyles become fancier, who would mind a few extra bucks? R.C. SHARMA enlists ways to supplement your income
THE economic crisis has thrown up a host of challenges for the workforce. Of course, most are happy to have a job, the salary cuts and zero increments are unpleasant. Many are looking at different ways to earn some extra bucks to supplement their income.
Career Hotline


Studies first, begin drifting as pastime
Q. I like driving and want to get into drifting. Please suggest if there are any specific courses and the requirements for getting admission.
Up, up & away: Sky is the limit
Landing a job depends on various factors...
Long & short of Army
Mechanical engineering opens many doors
Brit workers ready for pay cut to save jobs
IN wake of the ongoing recession, about a third of workers in UK are ready to accept a pay cut if it helped colleagues keep their jobs, according to a new survey. The research commissioned by campaign group Keep Britain Working showed that about more than 30 per cent employees are ready to take pay cuts, while one in five would apply for a sabbatical on reduced pay, half would agree to change their role entirely if it helped avoid redundancies.
Course chat
Calling all legal eagles
PEARSON VUE has announced scholarships for Indian students taking the prestigious Law School Admission Test—India. Conducted across India in May, the test is a special version of the exam conducted globally by the Law School Admission Council (LSAC).