M A I N N E W S
Naxals strike on poll eve
Phase-II polling today l 2,041 candidates l 140 seats
Tribune News Service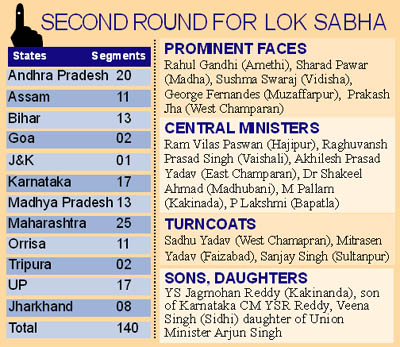 New Delhi, April 22
In a grim reminder of the violence during the first phase of Lok Sabha polls, Naxalites today, on the eve of the second round of voting tomorrow, tried to unleash a wave of terror in the states they are active in by hijacking a train carrying nearly 700 passengers in Jharkhand's Latehar district, bombing a BDO's office and killing a driver after setting ablaze several trucks in Bihar.
Over 19.48 crore voters would be casting their franchise across 140 Parliamentary constituencies across 13 states tomorrow. Among the big contenders in the second phase are Congress general secretary Rahul Gandhi, Union Agriculture Minister Sharad Pawar and former Defence Minister George Fernandes.
Rahul Gandhi is seeking re-election from the traditional family seat of Amethi (UP) while Pawar is contesting from the newly created seat of Madha (Maharashtra) and Fernandes from Muzaffarpur (Bihar).
A total of 2,041 candidates, including 121 women, are in the fray in this round. The states to be covered are Andhra Pradesh (20 seats), Assam (11), Bihar (13), Goa (2), Jammu and Kashmir (1), Karnataka (17), Madhya Pradesh (13), Maharashtra (25), Orissa (11), Tripura (2), Uttar Pradesh (17) and Jharkhand (8). A total of 2.23 lakh polling stations have been set up, Deputy Election Commissioner R Balakrishnan said. "Polling staff has been sent in advance to places in Jammu and Kashmir, Jharkhand and Bihar. In this phase, 26,872 villages have been identified for intimidation and other possible problems," he added.
Out of the 140 seats, the BJP would be contesting 113, the BSP 122 and the Congress 117. The NCP has candidates from 23 segments while the CPM and the CPI are contesting nine and 17 seats, respectively. The RJD would be trying its luck on 15 seats. Among others seats, Ayodhya, which is a part of Faizabad Lok Sabha constituency, would also be going to polls tomorrow.
Notably, polling was conducted in one seat in Manipur today. Tomorrow, elections to the assemblies of Andhra Pradesh and Orissa would also be completed.
Interestingly, 38 out of the 324 Uttar Pradesh candidates in the fray this time have criminal antecedents. The ruling BSP tops the list with seven nominees, followed by Congress (four), BJP (three) and SP (two).