Cover stories
On World Book Day, we take a peek into the reading habits of some celebrities from the tricity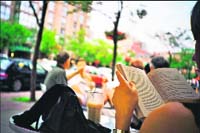 It's the day to keep a date with your books new and old; to turn the pages of some old favourites even it they're soiled and you've read them twenty times. For April 23, is a day that symbolises world literature; to be more precise, it's the World Book and Copyright Day. A UNESCO mission, this day also marks the death or birth anniversary of various authors, including Cervantes, Shakespeare and Inca.
Unfaithfully yours
A recent study placed a city in the region among the top few when it comes to adultery. Experts give their take on this growing phenomenon

Thou shalt not commit adultery, says the Seventh Commandment of the Hebrew Bible. But the truth is that infidelity is the biggest relationship-wrecker around the globe. In a recent survey conducted by a popular magazine, 41 per cent of Indian men admitted of having strayed. The corresponding figure for the fairer sex was 8 per cent. Ludhiana topped the list with 47 per cent respondents in the city confessed to have committed adultery, while Delhi stood second at 39 per cent.
Best of Bs


Big B, Ben Kingsley come together for Teen Patti
Leena Yadav's Teen Patti, which is said to be inspired by Hollywood flick 21, will see the union of two of the biggest names from Bollywood and Hollywood, with Amitabh Bachchan and Academy-winning Ben Kingsley coming together for the first time. Amitabh, who is currently in London to shoot the last schedule of the film, posted on his blog, "...soon after we get into a photo shoot and reading rehearsals for the shoot, with Sir Ben Kingsley. He plays an important part in the film."
Gorgeous gudiya
Now, Katrina to model for Indian Barbie
Bollywood's top heroine Katrina Kaif will be the subcontinent's first actress to be a model for an Indian Barbie doll, a British newspaper has claimed. The 24-year-old actor, with her combination of pale skin and classical Indian features, from her Kashmiri father and English mother, bagged the doll deal after her arch rival Aishwariya Rai Bachchan missed out on the Barbie contract.
Working at play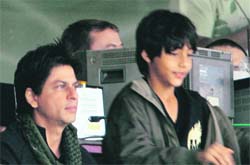 Shah Rukh said it was not easy pleasing people in Kolkata where emotions run high and admitted there was tremendous pressure on his side. "We are under a lot of pressure. We are a hyped team because the owners are from film industry and because we have the most passionate city backing us," the Bollywood actor said.
Kolkata Knight Riders' owner Shahrukh Khan during the team's IPL match against Kings XI Punjab in Durban on Tuesday. PTI Photo
Cheers to Chitrangada
Bollywood actor Chitrangada Singh, who made her debut with the critically-acclaimed Hazaaron Khwaishein Aisi in 2005, was conferred the Young Women Achiever Award-2009 on Monday.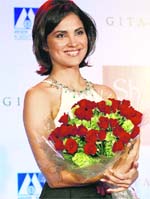 Bollywood actor Lara Dutta poses during the launch of a jewellery 'Shuddhi Sampurna Vishwas', in New Delhi on Tuesday. Indian jewellers Gitanjali Group and the government's Minerals and Metals Trading Corporation (MMTC) together launched 'Shuddhi -Sampurna Vishwas', a chain of stores retailing hallmarked and certified gold and diamond jewellery. Photo: Manas Ranjan Bhui
Halla bol
It took Anand Raj Anand three years to complete his latest music album
Music director and singer, the brilliantly talented Anand Raj Anand is back with a bang with his magnum opus Anandrisation. The album, which consists of eight songs, is a result of close to three years of dedicated work and effort. The high point of the album is in its making which took around three years to get complete was finally winded up with 100 musicians at Yashraj Studios in April 09, this has happened in the digital age where any other composer today are not practicing live music and it's the blessing of 100 musicians that has made this magnum opus album possible, says Anand
Coffee couture
We can bet on it - no other drink as coffee has evolved so much since its origin. Modifications in the form of milk to water proportions, coffee content, temperatures, trimmings and what not, every possible experiment has been done with the very plain filter coffee to make generations fall in love with it.
Ca(f)eat emptor
It's easier to change your religion, not coffee. The allegiance is ok but can you seriously make out your Latte from the Macchiato, which by the way, are pronounced as lah-tay and mah-kyah-toe? Or does the permutation, combination of steamed milk, whipped cream, foamed milk, espresso and their proportions make you duck for cover? Most people swear loyalty to either cappuccino or the mocha, but would drink either, if given no choice. It takes more than money to order a perfect cup of coffee. Time to know your beans.
Tree point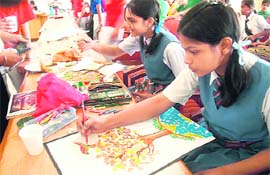 Kids participating in art 'n' craft workshop on World Earth Day. Lifestyle photo: Vinay Malik
Making a difference
World Earth Day sees an art 'n' craft workshop on trees
Thank god! Someone's doing something. Something about the environment, the earth, the effluence, the ecosystem, et cetera. Precisely the belief, a quick recce of the Botanical Garden on Wednesday, reinforced. Never mind the minority, where there's an effort, there's a difference. Whenever there's an occasion, there's a reason. On World Earth Day, Department of Environment, Chandigarh Administration with volunteers of Yuvsatta, put together art 'n' craft workshop with 'Trees' in focus.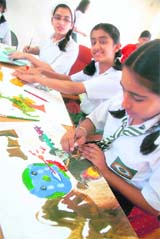 Pregnancy woes
Pregnant women with bulimia tend to be more anxious and depressed
Bulimic women also have lower self-esteem and are more dissatisfied with life and their relationship with their partner, according to a new study. Bulimia is a disorder among young women who go on eating binges and then feel guilty about it. Bulimia in pregnancy can have serious consequences for both mother and child.
Birds of a feather..
A 193cm tall woman Vanessa Elliot has revealed that she was always considered the odd one out in a crowd, until she found the Tall Women's club. She says that though she doesn't always notice her towering height, people often remind her of that.
Relatively Speaking
Lend a hand
Old folks find themselves lonely and lost in the twilight years, courtesy the decline of the joint family system. What can we do to make them feel wanted?
Bond emotionally
The older people may belong to any income group; they need to be looked after. Very often we can see the oldies sitting idle, looking blank, scanning through the newspapers or relaxing in the armchairs, with disillusionment writ large on their faces.
Lifestyle invites responses from readers on the following issue:
The economic slowdown is leading to job uncertainties. How can we help our friends and families to cope with the rising stress?
Please email the responses to lifestyletribune@gmail.com or post along with your photo and contact number to 'Relatively Speaking', Lifestyle, The Tribune, Sector 29, Chandigarh. The best few responses will be published.