Raising the bar
The tricity's pub and lounge culture is seeing a growing presence of youngsters, especially the fair sex
The cocktail lounge has re-emerged on our cultural map as a popular site for socialising and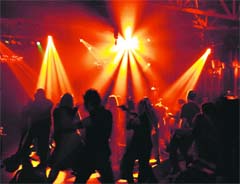 spending an evening out, particularly among urban trendsetters in their twenties and thirties. Having become a philosophy for many, to our surprise and, probably yours too, in contrast to the so-called lazy or no-lounge or pub culture in some towns, the young and not so young in our city are gung ho about it.
Beyond borders


Artistes from across the region pay rich tributes to ghazal and thumri singer Iqbal Bano
Maut uski hai, kare jiska zamaana afsos, yun toh duniyan mein sabhi aate hain marne ke liye … " Urdu poet Mehmmod Rampuri seems to have penned the couplet for the legendary ghazal and thumri maestro, Iqbal Bano, whose sudden demise has plunged the music lovers of India and Pakistan into grief.
Weekend wows
Hers is definitely a fairytale journey. From the shy Bani of Kassam Se to the supportive wife in Rock On, this petite beauty is on her way to stardom, which we believe she already has a taste of. And the success of Rock On has definitely paved way for many more exciting projects that keep Prachi Desai on her heels. Lately, she has been shooting for an upcoming movie Life Partner opposite Tushhar Kapoor.
Living legend
Veteran actor, writer, producer & director Manoj Kumar will be

awarded the coveted Dada Saheb Phalke Ratan
The Dada Saheb Phalke Committee will award veteran actor Manoj Kumar with Dada Saheb Phalke Ratan on 4 May, 2009 at a ceremony in Mumbai.  Manoj receives this award for completing 50 years in films this year and for his outstanding contribution to cinema with memorable films like Shaheed, Upkar, Purab Aur Paschim and Shor.  The first actor to receive this award was Dilip Kumar, last year. 
Chal mere bhai
Salman passes on lucky name Prem to Arbaaz
Bollywood star Salman Khan has found a new way to pass on his luck to younger brother Arbaaz Khan - by passing on his lucky screen name Prem. The actor suggested that Arbaaz name his character Prem in his upcoming film Prem The Game, where he plays the lead.
Tome of wisdom
On the occasion of World Book Day on Thursday, British Library organised a quiz and an exhibition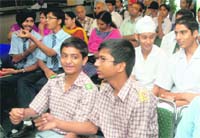 Fill in the blanks, pick the odd one out, match the following… high school English teacher, Shakespeare's plays, Wren and Martin grammar classes…The good grand world of literature awaits you! Time to go back to school, do your homework, and take a quiz…British Library on the occasion of World Book Day put together a quiz and exhibition. One of the speakers could be heard saying, 'Books don't mean just Harry Potter…well, the quiz had first question 'Name the magician…from the famous Harry Potter'! The day celebrated to promote reading, publishing and the protection of intellectual property, had students from fifteen city schools testing their 'literature quotient'.
Looking beyond
City woman inspires Mithun Chakraborty and others on dance show to pledge to donate their eyes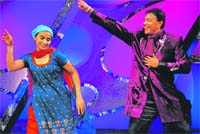 Let not her calm and composed exterior mislead you. For, she is a woman whose unsung battle with life could put any hero to shame."Dance India Dance' had discovered Rashpal Kaur during the Chandigarh auditions. She's an ordinary woman like any of us. But the pain that she's had to undergo and the odds she's battled are what set her apart. Rashpal succumbed to a deadly brain tumor while she was pregnant. Though the doctors saved her life, she lost her eyesight in the process.