Going SOLO
Social equations are changing as having a single child is fast becoming the norm, writes Seema Sachdeva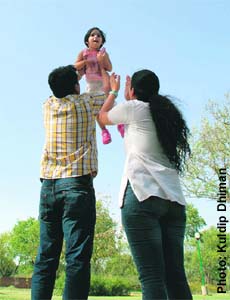 THE bustling and burgeoning "great Indian family" has become a thing of the past. More and more young couples are not only opting for nuclear families but are also happy going in for one child. From something that was considered a rarity even 20 or 30 years ago, having a single child is fast becoming the norm in the urban milieu. This also makes sound financial sense in the current economic scenario wherein it is becoming imperative for both parents to be working so as to provide their child with the best of facilities. Whether it is better to have a single child or not, the opinions vary.
Those favouring a single child say the child gets more attention from parents as well as better facilities and opportunities. Those opposing the one-child theory feel a single child tends to lose out on companionship and life skills, which one acquires naturally in a large family. These children often have adjustment problems later in life.
Single children, however, claim that though they do miss out on company, they get the best of everything. Thirty years ago when Sahil Puri's parents decided that they would not go in for a second child, there was an outcry in the family. But today Sahil, who is working as a Chief Officer in Merchant Navy, says he had always felt privileged to be a single child and he, too, would like to go in for one child. "Since I was their only child, my parents closely monitored my progress. I was the focus of their attention. They tried to give me the best of opportunities — be it in academics, sports or other extra-curricular activities.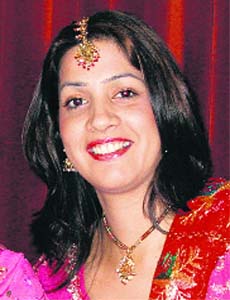 "For instance, when I showed interest in painting in class III, my parents immediately bought me a set of oil paints, canvas, watercolours etc, which may not have been the case if I had siblings vying for my parents' attention," says Sahil.
A major disadvantage, which most single children admit to, is not having someone to share their feelings, or even to fight with. For Mandeep Kaur Hayer, a lawyer, being an only child had its advantages as well as disadvantages.
"With no competition from anyone, I got my parents' undivided love. Though making friends was never a problem, there were times when I wished I had a sibling, especially when I would see my friends, who had good understanding with their siblings. I feel that even when you fight with your brother or sister, it helps to develop a special bond because at the end of the day, you will unite again."
Gaurav Garg Dhuriwala (34), an Assistant Advocate General and father of two children, echoes the same thought when he says that though he enjoyed the attention and love he got from his parents as a single child, it is better to have more than one child. "When I was a kid, I yearned to have a sibling with whom I could play with and share my thoughts. It was only by the time I entered my late teens that I became comfortable with the idea of being the only child. Also, as a single child, I feel more responsible towards my parents. In fact, I once got a chance to study abroad but I decided against it since I didn't like the idea of leaving my parents alone."
Delhi-based IT professional Vidya Ramachandaran (34), mother of a three-year-old son, however, is quite gung ho about being a single child herself. She says: "It is great to be a single child. In fact, I had the best of everything". She feels she never had any adjustment problems even when she stayed in a hostel during her post-graduation. "I was able to adjust quite easily. It all depends on how you adapt yourself." She adds: "It is a myth that single children tend to get spoilt. It all depends on your upbringing."
Vidya says, "As a single child I do feel responsible towards my parents but there is no pressure. They have done so much for me and I need to do the same, if not more."
Single children are used to getting all the attention at home, which creates problems when they enter school, where they find themselves just a face in the crowd.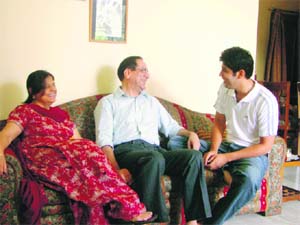 Sahil Puri shares a moment with his parents. He always felt privileged to be a single child and would like to go in for one child, says Sahil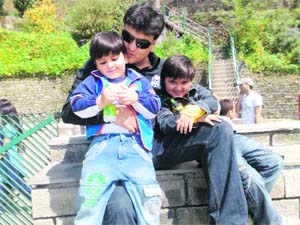 Gaurav Dhuriwala with his sons. A single child himself, Gaurav chose to have two children
Sangeeta Sekhon, coordinator of the junior wing, Strawberry Fields World School, Chandigarh, says sinsgle children often take more time to open up and interact with others as compared to those with siblings. However, single children are often very creative and imaginative.
"Often, parents of single children are very anxious. Statements like, 'He/she is my only child; I want to give him/her the best of everything' are not favourable. A child will grow up normally if given less attention. Moreover, single children are always looking for appreciation and motivation, which is not healthy in the long run. With siblings, children learn to accept others' weaknesses and strengths as well as their own. It is important for parents of single children to maintain a balance so as to provide them with a healthy environment to grow," says Sangeeta.
Anita Kashyap, Vice-Principal of Yadavindra Public School, Mohali, feels that though in the initial years it is a little difficult to handle such children since they are used to the idea of receiving only, by the time they are in class IV or V, they get comfortable with themselves and their surroundings. Children are like a clean slate. They can be moulded in whatever way. Once they get comfortable with themselves, they can move ahead in life without being dependent on anyone. Be it single children or those with siblings, it is important to address the emotional side, she adds.
While trying to provide them with the best of everything, parents of single children often tend to put a lot of pressure on them — be it academically or in extra-curricular activities. According to psychiatrist Simmi Waraich, parents try to fulfil their unfulfilled desires through their children. At times, they put pressure on the children to achieve those goals in life, which they had been unable to achieve. So if there is only one child in the family, the entire energy will be focused on the child, which can create pressure to excel.
When there is more than one child in the family, children become good at problem solving and negotiating. As they grow up, they are able to bring this knowledge to practical use, says psychologist Rajshree Sarda.
A research by Toni Falbo and Denise Polit, Professors of Education and Psychology at University of Texas, has concluded that single children scored significantly better than other groups in achievement motivation and personal adjustment, and were indistinguishable in all other respects from children with siblings.
Psychologist Rajshree Sarda feels this is because parents' resources, especially their time, are diluted as additional children arrive. "Only children are likely to have slightly higher IQs because they are read to more often. Their vocabulary scores are markedly higher, probably because conversation in the household doesn't become as childlike."
She says single children tend to be hypersensitive about even the most remotely critical remark going in their direction. Many a time, parents of single children get anxious and end up being perceived by their children as hyper and interfering, she says.
Children these days are growing up to be less adaptive and may have a lot of adjustment problems. This is because, says Simmi Waraich, they are used to instant gratification. Since they are pampered a lot by their parents as well as grandparents, they get used to having their way. To prevent children from getting spoilt, parents need to be extra careful, she adds.
As joint families and extended families no longer exist, children often lose out on life skills, which they learn by observing others. Whether single or not, in the changing scenario it becomes more important to help children become self-dependent and confident of themselves so that they can write their own success stories.
(Models have been used in the main photograph for illustrative purposes)