lords of the ring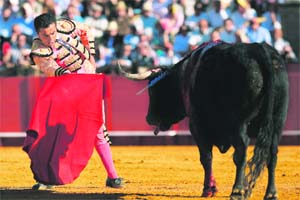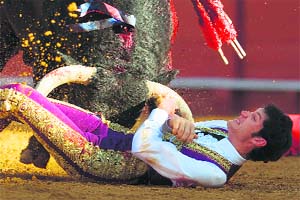 MAN vs Animal:

(Top) Spanish bullfighter Jose Pedro Prados "El Fundi" prepares to perform a pass to a bull and (below) Sergio Aguilar is tackled during a bullfight in The Maestranza bull-ring in Seville, Spain Photos: Reuters
Gaganjit ON TOP
Gaganjit Bhullar, the youngest Indian to qualify for the British Open, gives full credit to his sports psychologist for giving him mental strength, writes Donald Banerjee
Following close on the heels of Jeev Milkha Singh, who has made a mark in the international golf circuit, a 20-year-old from Kapurthala is slowly but steadily inching his way into the European Tour circuit Gaganjeet Bhullar, who turns 21 on April 27 this year, is all set to prove his mettle when he tees off along with the world's top golfers, including Jeev Milkha Singh, in the British Open at Turnberry in Scotland on July 16.
Man of commitment
Glen McGrath, who is spearheading Delhi Daredevils' bowling attack in the IPL, talks to A. Roy about security for the event and Tendulkar vs Bradman
Despite initial reservations you are now playing in the IPL. So was the decision taken because the IPL is now being held in South Africa?
It was a tough decision for me to make. I was in two minds. It has been a terrible year for me. But the challenge for me was to take a step ahead and fulfill my commitment. I have a two-year contract with Delhi Daredevils.