Ties that matter
Ramesh Luthra
Family Values
by Abha Dawesar.
Penguin.
Pages 296. Rs 325.
Family Values is indeed a remarkable novel. The author has dealt with the chain of events in an artistic manner. The way corruption and nepotism have seeped into our social and political systems are highlighted through a young boy, whose special traits that deserve appreciation are silence and keen observation.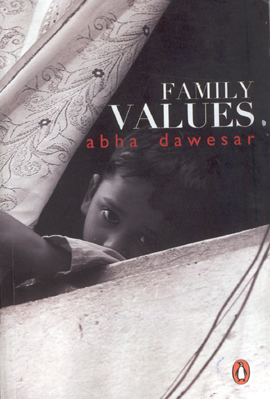 The novel focuses on the family of an old father and his siblings who want him to die to get their share. It makes a gripping story of family rivalries, betrayals and loyalty. Very credibly does the author come up with a wonderful concoction of family, social and political machinations without marring the beauty of this literary piece. The reader travels from Mrs Cowdung's strained relations with doctors, family rivalries, youngsters' involvement in dirty politics and drug addiction to local party leaders and finally to big bosses who play filthy games in connivance with each other. Unhesitatingly, Dawesar refers to a "comic politician who expropriated funds allocated for the purchase of cattle fodder".
Since eyes are fixed on the old man's property, the process of grabbing begins with Ms Six Fingers announcing her pregnancy to possess the main bedroom aiming to own the flat finally. However, it is the old man who has his day when he drops the bombshell that he has sold the house.
The writer is preoccupied with materialism and watch-your-own-interest policy rampant in society. She successfully cuts through the hypocrisies and manipulations of siblings. The rotting filial socio-political texture of our society is laid bare before us. Very blatantly does the teenager cousin remark: "When it comes to money, no one is anyone's father or grandfather. Do you think I will keep my parents after my child is born?" Disintegrating kinship ties in today's world are depicted at the time of the grandfather's death. All relationships have lost their sanctity before the glamour of rustling paper.
The reader is provided with a rich feast of characters herein as the cavalcade of humanity parades before us. Like Chaucer's Canterbury Tales, it abounds in all variety. Strangely enough, the characters are named after either physical traits (poop, six fingers) or profession (doctors et al). Of all the characters, doctors win over our hearts, especially the boy's mother with her honest and intelligent approach to life. The boy with his silent, keen observation and simple yet intelligent remarks stands apart.
This tale of stark and grim reality would have lost its charm but for the rich sprinkling of humour and satire. The old man's desire to win respect from his siblings by selling the house is enriched with subtle irony. Further his intention of buying the most expensive pair of "imported glasses" and the doctor's wife not letting the old man use their toilet and offering the kidney tray because of the couple's obsession with protecting their "privacy" will send the readers into peals of laughter.
Short and crisp sentences carry forward the story effortlessly along with comments about it. Flunkie Junkie's description of thevicious circle seems to be the thrust of the story. However, it could have been made more subtle and oblique at certain places.
One agrees with the protagonist's summing up, "We live in a time of compromises and corruption". The author's dispassionate and "detached tone," imparts a unique place to Family Values in the realms of this genre. It is in fact not a story of family values but of human values and is an excellent example of literature that is meaningful and holds a mirror to life. A must read for all those who love literature.