New marketing mantra
Laxmi Kant Verma
Corporate Blogging in India
by Rajeev Karwal and Preeti Chaturvedi.
Wisdom Tree.
Pages 127. Rs 345.
THE rise in the use of Internet has provided many options for business organisations to communicate with their customers. Blogging is one such option, which is being used widely these days. In Western countries, this trend is rising; but in India, it will take some more time. Today, blogs are being considered as one of the best Internet marketing tools, as they are easy to manage as compared to other forms of marketing like e-mails and newsletters.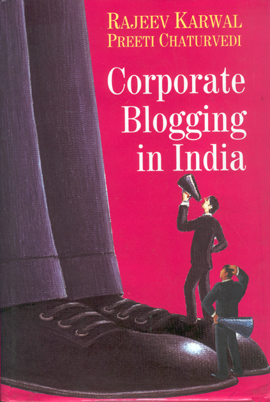 The book throws light on various aspects of blogging and proves that it makes communication by the organisations with their customers more effective. It focuses on blogging through an absolute business and marketing perspective. The case of Makemytrip.com is one such example of Internet marketing using blogs, which has been highlighted by the writers.
Corporate Blogging provides a great number of viewpoints and examples of how blogs can be useful in learning the customer relationship management. It has some case studies and thoughts on how blogging can be used in business to improve it further and market the corporate itself. These case studies related to various industries, financial services and SMEs (small and medium enterprises) provide a clear understanding of where the corporate blogging is heading.
The book is a comprehensive account of the ways in which companies in the country are using blogs for marketing, employer branding, internal communication, executive leadership and most importantly, for conversations. With its low infrastructure cost, blogs can encourage greater frequency of correspondence and dialogue with customers and make the system of customer feedback much more effective.
From India's perspective, the book lists some of the who's who of the corporate world, the people who are making use of blogging effectively. These are Nandan Nilekani of Infosys, Ajit Balakrishnan of Rediff.com, Sanjeev Bikhchandani of Naukri.com, Rajesh Jain of Netcore and Vineet Nayar of HCL. The main advantage of blogging, which differentiates it with other aspects of communication, is the ready availability of instant feedback whether good or bad. Many companies are hiring bloggers to be the humane face of their organisation.
A chapter on SME's focuses on various e-commerce sites such as Cleartrip.com, Makemytrip.com and Mouthshut.com. Many e-commerce sites have capitalised on blogging to provide a complete user interface, including special offers and discounts. The publishing industry in India is also not far behind in blogging. It has also risen to the occasion and is eyeing for talent as well as marketing.
The book can be helpful to those who are interested in using blogs as the new medium of communication to market their products online. From the perspective of organisations, blogging will make better sense and understanding of the world using the Internet business economy.