TRIBUTE
End of an era
Gandhian poet and writer Vishnu Prabhakar, who died in New Delhi on April 11, was the last link between contemporary Hindi literature and that of the pre-Independence era.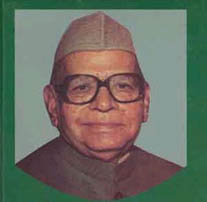 Vishnu Prabhakar
He was best known for Awara Maseeha (1974), his engaging biography of Bengali novelist Sarat Chandra Chattopadhyay, and his trademark white Gandhi cap that he wore till the end of his life.
Prabhakar made headlines in 2005 when he threatened to return the Padma Bhushan for alleged misconduct at the Rashtrapati Bhavan. He won the Sahitya Akademi award for his novel, Ardhanarishvara (The Androgynous God or Shiva).
"Prabhakar's death is a great loss to Indian literature. To my knowledge, he was the last Hindi litterateur who upheld the old lofty values of the freedom struggle in his writings," Janardan Dwivedi, Congress general secretary and a Prabhakar aficionado, said.
"Prabhakar's career spanned four generations of writers right from the freedom movement to this stage. He was a thorough gentleman and a Gandhian as far as his writings were concerned, though he was not affiliated to any political party. He always donned a white Gandhi cap," Dwivedi said.
Prabhakar's body of works included Dhalti Raat (novel), Swapnamayi (novel), Navprabhat (drama), Doctor (drama), Sangharsh ke Baad (short stories), Prakash Aur Parchhaiyan (plays), Barah Ekanki (plays), Ashok (plays) and Awara Maseeha (biography).
The writer, who wrote under the pen-name Vishnu, became Vishnu Prabhakar after a curious editor wanted to know what examination he had passed as part of his formal education. The poet replied "Prabhakar"; and the editor suffixed it to his name.
However, writer and academic Pushpesh Pant rued the fact that few youngsters read Prabhakar's works these days.
"Tell me how many youngsters read Hindi literature? We discuss books that raise political debates and win Bookers. It is very difficult to fit Prabhakar in with his profound style and Gandhian values. He was a victim of indifference," Pant said. — IANS