SHORT TAKES
Glimpses of Haryana
Randeep Wadehra
Haryana: an overview
by Dr. SP Gupta.
ESS PEE Publication.
Pages: xvi+256. Rs 195.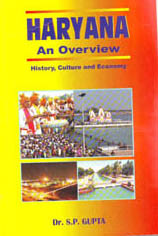 AFTER its formation in 1966 Haryana has made tremendous progress in various fields. Its wheat production has increased by 10 times, rice by about 16 times and oilseeds nearly nine times. Its industrial production, in terms of rupees, has shot up more than 40 times. Social indicators, too, show impressive improvement in the fields of education, health and social welfare. However, female-male ratio is not mentioned. Moreover, this book sketches various aspects of Haryana. It outlines the state's history right from the Vedic times onwards – garnished with mythology. The author claims that the First War of Independence had begun in Haryana's Ambala Cantonment and not in Meerut as mentioned in the history books. He gives details of how the 60th Native Infantry, stationed in Ambala, was the first to revolt on the issue of fat-smeared cartridges.
Apart from stating historical facts in brief, the book acquaints us with the state's natural resources, its demography, and literacy related issues. There are separate chapters on agriculture, industry, labour, human resource development and Panchayati institutions. This book can be a handy reference book.
My Guru in disguise
by Priya Mookerjee.
Wisdom Tree.
Pages: viii+209. Rs 245.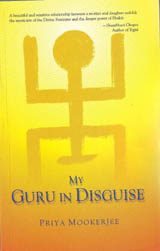 Mother-daughter relationship is often more complex than the one between father and son. The emotional ties are stronger; the undercurrent of love, trust and jealousy can turn into an explosive mix or morph into a sublime equation – depending upon various factors. This book deals with the latter phase. The narrator and her mother shared an uncommon spiritual affinity – peppered with such temporal ingredients as love, anger, sadness and laughter.
Coming from a privileged and well-known Tagore family the narrator's mother had, as a child, earned praise from Rabindranath Tagore for singing his poems beautifully. Being a strong-willed person she chose her own life partner at the age of 18. But soon the marriage ended in a divorce. Her second marriage, too, was the result of a love affair. Although this one lasted, she underwent spiritual transformation that bemused her husband and made her children emotionally insecure.
Several spiritual experiences narrated in this book depict the mother as an evolved person. She develops great healing powers and, in the process, gathers a large following of disciples and believers. One day she mysteriously catches fire. Instead of crying for help she walks into the bathroom and dowses the flames with water. Then she calmly combs her hair and goes to the hospital. She dies there a few days later after bearing immense pain stoically. Priya Mookerjee has a way with words that conjure vivid and enduring images.
What's wrong with man?
by Jaspreet Singh.
Rose Books.
Pages: 104. Price not mentioned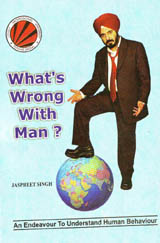 Created half to rise, and half to fall; Great lord of all things, yet a prey to all; Sole judge of truth, in endless error hurl'd; The glory, jest, and riddle of the world!
The book's title reminds one of the above lines from Alexander Pope's Essay on Man. For ages saints, seers, philosophers and poets have been trying to resolve the riddle called man – with, at best, partial success. Jaspreet Singh's is but one more attempt in this direction. Only, his poser prompts cut-and-dried, rather than any prototypal poetic/ philosophic, insights into the nature of man. In this slim volume he has attempted to explain the mental conflicts that people undergo; he examines the various instincts like hunger, sex, possessiveness etc. He also takes a look at the influence that religion and consumerism have in influencing human behaviour.
This monograph's contents are quite interesting.