Food talk
Paneer on a platter
Pushpesh Pant brings us paneer Chettinad, crisp on the outside and creamy soft inside
PANEER a.k.a. Indian cottage cheese is ubiquitous — you encounter it in myriad forms — paired with peas or mushrooms or both, draped with emerald-hued spinach, presented pompously as shahi (nothing more regal than a nut paste and clotted cream enriched white gravy, stir-fried hastily in a karahi avatar or simply scrambled as bhurji. It provides the body in fillings of dozens of vegetarian delicacies and we have friends who devour it raw in huge quantities who insist that that's the way to 'do' paneer.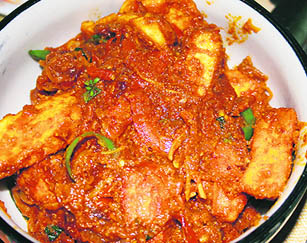 Frankly, no one cares any longer that this delightful dairy produce was brought to the sub-continent by the Portuguese and is not a swadeshi child at all. Master chefs and ordinary housewives never tire of experimenting and innovating with this versatile ingredient and we have tickled our palate with different degrees of satisfaction with paneer bonbons, batons, triangles et al.
To be honest we have never been greatly enamoured by it and have a strong bias in favour of the soya-based tofu. This is the reason that we were pleasantly surprised when a south Indian hostess persuaded us to sample her paneer Chettinad. We began with a discouraging 'Oh come on' but the quick-witted lady sprang another surprise. Hadn't we sampled her sister-in-laws' paneer last week? Put on the back-foot we had no option but to yield. The dish, obviously concocted-oops! Read 'created'— was not doused in sambar masala or gunpowder podi nor was the presence of curry leaves and mustard tempering over powering. There was just a pleasant hint of peppercorns, roasted cumin and coriander seeds, the flavour of whole red chillies was there but not their pungency. The paneer itself was done brilliantly — crisp on the outside, creamy soft inside. It brought back happy memories of the fried-bean curd at Nanking, the Chinese eatery run by Baba Ling in the Capital. We know that we will be accused of extreme prejudice in favour of what else tofu but believe you us achieving this two-in-one texture isn't child's play. We recommend Chettinad paneer without reservations.
Chef's corner
Ingredients
Paneer 500 gm
Medium tomatoes (chopped fine) two
Roasted cumin seeds 1 tsp
Roasted coriander seeds 1 tsp
Whole red chillies (deseeded) 4-6
Peppercorns (half coarsely pounded) 1 tsp
Bay leaf one
Cloves two
Cinnamon 1 inch piece
Brown cardamoms crushed two
Salt to taste
A small spring of curry leaves
Oil to deep-fry
Method
Cut the paneer into batons or cubes. Heat oil in a pan. Deep fry paneer till golden-brown on medium heat. Remove and place on kitchen towels to drain off excess oil. Grind the cumin and coriander seeds and the chillies. Take a tbsp of oil and put the bay leaf, cloves, cinnamon and cardamom. When the whole spices begin to change colour, add the powdered spices dissolved in 2 tbsp of water, along with salt. Sprinkle the peppercorns. Add paneer and stir to drape with spice paste and add chopped tomatoes. Simmer stirring regularly for about five minutes. Add curry leaves and keep on low flame for another two minutes.