HOLLYWOOD HUES
Hauntingly evocative
Kurdish-Iranian filmmaker Bahman Ghobadiís anti-war drama Turtles Can Fly is a heart-rending†story of life in a refugee camp, writes Ervell E. Menezes

A moving account of orphaned children in a refugee camp on the Iraqi-Turkish border before the US invasion of Iraq, Turtles Can Fly is a chilling, anti-war tract of`A0unmitigated pain in the narration of this hauntingly evocative story.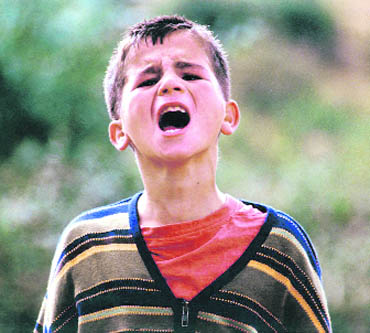 Children spin out their emotionally shattering
stories in Ghobadiís magnum opus

Kurdish-Iranian filmmaker Bahman Ghobadi paints a lyrically moving picture of the strife-torn region and its abandoned children in a netherland dotted with craters, empty shells and unexploded bombs and mines. Itís a different kind of wasteland with apologies to T.S. Elliot.
Having already given us such classics as A Time for Drunken Horses and Marooned in Iraq, Ghobadi picks up from where he left off in those earlier films and uses children in their real personas to spin out their elevating and emotionally shattering stories. This squad of boys is led by Soran aka Satellite (Soran Ebrahim) because of his expertise with TV antennae is seen first on the rooftop fixing a dish, which is a symbol of magic to them.
His gang comprises the amiable Henkov (Hirsh Feyssal), who loses his arms in a mine explosion but takes care of Agrin (Avaz Latif) and baby Risa. Soran expresses feelings for Agrin who is now in a suicidal mode after being raped by Saddamís soldiers and left with a child. She is in no position to reciprocate, being in a kind of trance. There are lame kids who run as fast as normal ones, the armless boy makes light of his handicap as they make the most of their bizarre plight. These things have to be seen to be believed and if they happen well even turtles can fly.
Every child has a story to tell and director Ghobadi`A0doesnít take sides or preach morality. Divested of sentimentality it is just a heart-rending story of what life is in that refugee camp and how Soran thinks of selling those land mines to buy a TV antenna for the village. He is the only literate one and even the elders come to him for translations of the news.
Ghobadiís screenplay is terse and to the point as he fleshes out these cameos and Shariar Assadiís caressing camerawork gives one an added dimension. Hayedeh Safiariís editing rounds up a brilliant piece of cinema. Sorrow enters the soul like an iron and with it a quantum of anger. Not in a long while has one seen such a moving, compelling, devastating anti-war drama. And all in just 95 minutes. Qudos to Ghobadi for this magnum opus.