Self-proclaimed custodians of tradition and a rusty ethical code, the khaps of Haryana have
gained notoriety for their lopsided diktats. The rural society in the state seems to be
grappling with the old and new value systems, writes Geetanjali Gayatri

LOVE may know no barriers elsewhere and marriages maybe a personal affair but in the caste-centric and male-dominated rural society in Haryana, the 'meddlesome' khaps or jati (caste) panchayats are playing spoilsport. Calling the shots, sometimes literally, on the issue of love and marriage, these panchayats are part of a legacy carried forward from the medieval era.
Love vs khaps
LAST month, a 16-year-old girl from Singhwala village in Kaithal eloped with a 30-year-old man from the neighbouring Matour village in Kaithal district. This was provocation enough for the self-styled guardians of the village brotherhood to summon a meeting, denounce the marriage and 'sentence' the couple to death since the proximity of the two villages meant that they were brother and sister in the eyes of the khap.
The father of the girl, a school peon, Dhanraj, is a worried man today. Not only is he concerned about the safety of his daughter but is also weighed down by the pressure of toeing the khap's line to evade social boycott.
---
Manoj & Babli
One such khap panchayat in Karora village in Kaithal district sealed the fate of Manoj (23) and Babli (19) of the same village.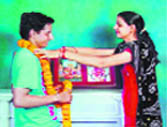 It was a tale of young love uniting in the face of opposition, but the young couple paid with their lives for marrying within the same gotra. Their decomposed bodies were fished out from a canal in Narnound town in Hisar district just two months after they tied the knot in Chandigarh.
Both were kidnapped and brutally murdered, allegedly by family members, on the orders of their village khap panchayat, which justified the killing on the ground that it was incest as the couple belonged to the same Banwala gotra. Manoj's family is still in the throes of insecurity in the village.
---
Rampal & Sonia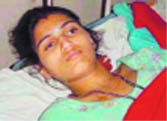 Similarly, Sonia and her husband Rampal live under security cover. The two were married for over a year and expecting their first child when a khap declared them brother and sister. They were compelled to sign divorce papers but refused to obey the khap's orders. They moved court and got police protection.
---
Birpal & Parveen
In Bhiwani's Hadodi village, Birpal and Parveen, too, got into trouble after tying the knot. Their arranged marriage in the village resulted in their ex-communication. They were ostracised after Chander Singh of Maan gotra solemnised Birpal's wedding with Parveen of Bhambhu gotra of Basdi village.
Some residents of Hadodi village raised objections to this marriage, stating that the bride was the maternal niece of Sheoran gotra, and since Sheoran people are in majority in Hadodi, the marriage was not acceptable. The khap decided in favour of the villagers.
For their families, too, life is a drag, and fear stalks them despite police protection. Being threatened, abused and roughed up has become a way of life. "It's been a complete boycott for four years. Our sympathisers, too, were not spared," says Birpal.The family maintains that the khap was a conspiracy to oust them, instigated by a handful of villagers who wanted to settle old scores. — GG
The diktats of these panchayats have no legal sanction, and their continued existence undermines the mores of modern judicial system. As parallel establishments doling out 'justice', the khaps justify their existence in the name of protecting castes (gotras) against 'pollution' from lower castes, and guarding the spirit of 'brotherhood' in the villages, gotras and communities. Answerable to none, these khaps are a law unto themselves, and their verdict is considered final in a milieu where social boycott can virtually cripple the life of a family. Originally, the khaps came about as a 'saviours' of their tribes, castes and clans.
However, in the current context these are caught in a tussle between modern values and preservation of an almost redundant ethical code. With little consideration for social commitments, these khaps have graduated to being essentially 'anti-women,' and limit themselves to cracking the whip on 'wrong and immoral alliances'. While the khaps have chosen to keep mum on social evils like female foeticide, dowry deaths and domestic violence, they stick to issues involving love and marriage to assert their existence and power.
The all-powerful khap panchayats comprising village elders, grouped along caste lines and motivated by the need to perpetuate a patriarchal order, are feudalistic in nature.
These village councils are active not only in the belt of Deswali Jats, comprising Rohtak, Bhiwani, Jind and Kaithal districts in Haryana, but also in Uttar Pradesh, areas surrounding Delhi, and in Rajasthan.
Most of these panchayats belong to the upper castes who have the land as well as muscle power to 'give justice' at will.
Many of those who have been at the receiving end of the lopsided khap verdicts feel that these are now being manipulated to settle old scores and rivalries. 'Justice' by these councils can range from passing fatwas to social boycott of families, declaring marriages void to even ordering the killing of 'erring and unrelenting couples.'
Caste divide
In the rural heartland of Haryana, caste divide is still very pronounced, and these khaps are staunchly backed by the upper castes, and 'verdicts' are thrust upon the common man, irrespective of whether he appreciates this interference or not.
He has no choice because disobedience can invite stringent punishment and social boycott.
Prof Khazan Singh of Mahrishi Dayanand University, who has done an extensive research on khaps, says: "In olden times when tribes were constantly at war, khaps provided the much-needed security from outside challenges.
"Their job also entailed maintaining brotherhood in the village, caste and community, as also revenue collection. With time, even after the establishment of a proper justice delivery system, khaps continued to thrive for their no-cost and instant justice as opposed to the time and money-consuming courts.
"The villagers continued to rely heavily on khaps, feeling that justice would be delayed and denied in the courts. However, all active khaps now are only a distorted version of the original."
Feudal mindset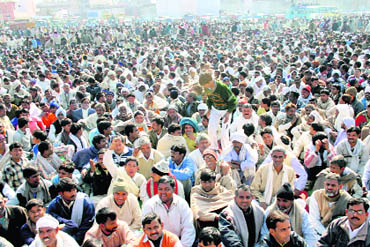 A khap panchayat in progress near Rohtak Photo: Manoj Dhaka
Travelling into the interiors of Haryana in the belt where khaps are a force to reckon with, and any utterance against its order amounts to blasphemy, one realises that feudal mindset rules rural society. People hail the khaps as 'saviours of their castes or gotras,' and have little or no sympathy for the victims.
Despite the fact that most of the verdicts are anti-women, it is the women who back the khap verdicts.
Women in Hadodi village, where one family has been ex-communicated for an 'immoral' marriage (see box), are of the view that without the khaps their entire lineage will become impure. "How can we promote incest for love? We don't care for cities but in villages, a boy and a girl are brother and sister only," the women say.
However, they are quick to add that slowly parents are finding matches for their children in cities, and are even sending them out of villages for study to escape the khap influence.
Time for change
The intolerance that follows the hate campaign against another group of a lower caste or financial position, as well as sexist attitude have led to calls for reform.
"Youngsters are turning away from the khaps and distancing themselves from their verdicts. The khaps have a better chance of survival if they limit themselves to social justice," observes Prof Khazan Singh.
Though the village folk still stand by the ideology that drives the khaps, they opine that the khaps will have to change with the times or perish. Jaiveer of Hadodi village in Bhiwani says: "More and more verdicts of the khaps are gradually falling flat, especially when the courts step in. I think we need to analyse why the younger generation is refusing to stay in the limits defined by these councils. If this is not done while there is still time, the khaps will be lost forever."
Rattan Singh, president of the Sheoran khap in Bhiwani, who is an advocate by profession, justifies the decrees of khaps by saying,"The khaps don't want the village community to break up. We do realise that what held good a decade back cannot be followed today. However, that does not mean that khaps must wind up. We must relax old conventions and adopt new ones to keep in step with the times while retaining the essence."
While the stranglehold of khaps continues, a change towards modernity is in the air. Rising above the caste divide, university students strongly back a departure from this tradition where a few men of the dominant caste wield the stick to decide their fate.
Amanjeet, a postgraduate student of Kurukshetra University and an active member of the Jan Natya Manch, says:"We are opposed to this culture where a khap will decide our fate. We have been performing a play titled Inhe Jeene Do on khaps, taking a cue from the Manoj-Babli case (see box), and staged it in a few villages. While we have to be very careful in staging such plays, village women have been appreciative of the effort. However, it will take time before they can find a voice before their men."
Social organisations like the All-India Democratic Women's Association (AIDWA), the Democratic Forum and the Sampuran Kranti Manch have put up a resilient fight against the khap diktats and provided relief to the victims of such verdicts. But it is not an easy fight, as Jagmati, president of the AIDWA, says: "No organisation wants to get involved with the khaps because it translates into insecurity. We are setting up our network in the state and trying to create awareness among women against taking such diktats lying down. We have successfully rehabilitated Rampal and Sonia (see box) in their village with security. I think that's an achievement."