A literary delight
Marrying the centuries-old tradition of mushaira to modern stagecraft, Jashn-e-Bahar, 2009, held recently in the Capital, was a visual and literary delight, says Aparna Srivastava Reddy
A poet from China, a litterateur from England, a journalist from Afghanistan—what do they have in common? Their love of Urdu, a love they share with hundreds of thousands of Indians. They shared the stage with many other eminent practitioners of the art of Urdu poetry from various parts of the world and all over India at Mushaira Jashn-e-Bahar, 2009, in the Capital on April 10. And the finesse of poetic expression mesmerised thousands of Urdu lovers collected there.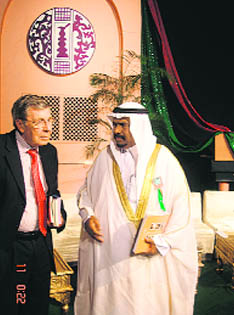 Their love for Urdu poetry brought several poets from across the world to Mushaira Jashn-e-Bahar in New Delhi

Marking the 10th anniversary of the Jashn-e-Bahar Trust founded by Urdu activist Kaamna Prasad in 1999, this celebration of poetry saw a galaxy of Urdu poets and a myriad flavour of poetic styles and contemporary thought.
Pade hain dher sare kaam;
Thhodi umr hai baki;
Usool-e-vakt ki khatir;
Ghadi ulti ghumata hun.
(There is a lot to do, and so few years left of life.
I wind the clock backwards to respect the laws of time). This couplet from Zhang Shi Xuan from China cast a spell.
Dr David Matthews, who had travelled to Delhi from England, quoted from Mirza Ghalib:
Zehr lagti hai mujhe aab-o-hava-e-zindagi; Yane tujhse thi use nasaazgaari hai hai;
(This life is bitter poison to me now, because it did not suit your taste somehow.)
Socio-political satire, nazms or poems, ghazals and verses in the lighter vein, the audience was feted with a full spectrum of style and thought. Ambareen Hasib, a young Pakistani poetess, brought a message of peace and amity:
Khiza rang gulshan nahi chahiye;
Yeh phoolon ka matfan nahi chahiye;
Hum ahle-kalam, dosti ke ameen;
Hame koi dushman nahi chahiye.
(An autumnal garden, we don't want;
A graveyard of flowers, we don't want;
We, the believers in the pen, the custodians of goodwill;
Enemity, we don't want.)
Mushaira Jashn-e-Bahar is a celebration of the grand expression of Urdu. One often hears a lament that Urdu is a dying language. But the popularity of a mushaira like Jashn-e-Bahar and the fact that we are finding poets writing in Urdu in new cultures and countries is proof that Urdu is living, thriving and evolving like any other living language. It is a language of love, is loved worldwide and is finding new territories, she says.
The Jashn-e-Bahar Trust has held these top-notch annual mushairas for the past 10 years in the Indian Capital and in many other cities.
Marrying the centuries-old tradition of mushaira to modern stagecraft, Jashn-e-Bahar, 2009, was a visual and literary delight. Connoisseurs and commoners, youth beset with curiosity and the older generation driven by nostalgia, gathered in thousands, and were left gratified.
Some of the most eminent contemporary Urdu poets from the sub-continent shared the stage with some very unusual practitioners of the art of Urdu—Zhan Shi Xuan from China, Omar Salem Al-Aidroos from Saudi Arabia, Rahbeen Khorshid from Afghanistan, Dr David Matthews from England, Humaira Rahman, Masroor Javed, Sabiha Saba from the US and Ambarin Haseeb from Pakistan.
The Indian side was represented by Dr Shahryar, Pundit Gulzar Dehlvi, Waseem Bareilvi, Popular Meeruthi, Anjum Rehbar, Gauhar Raza, Johnny Foster, Nusrat Mehdi, Agha Sarosh, Alok Srivastava and Sajjad Jhanjhat.
Dr Mahdi Jafri coducted the mushaira.
Prof Mushirul Hasan, Vice-Chancellor, Jamia Millia Islamia, presided over the mushaira, while Kuldip Nayar was the chief guest, and Pavan Varma, Director General, ICCR, was the guest of honour. Dr Bindeshwar Pathak, founder, Sulabh International Social Service Organisation, released the book Gufta-e-Ghalib on the occasion. This latest publication of Jiya Prakashan, which is a sister concern of Jashn-e-Bahar Trust, elegantly presents an interesting collection of Mirza Ghalib's verses in Devnagri.
Mushaira Jashn-e-Bahar is among the biggest such events on Delhi's literary and cultural calendar, and celebrates the joy of the season and of creativity as expressed through the Urdu verse.
An M F Husain creation that combines Husain's bold strokes with elements of calligraphy and poetry that are representative of the reach, the sweep and the openness of the Urdu language formed the backdrop of the literary evening. The eminent artist has also designed the logo of the Jashn-e-Bahar Trust.