View of the Valley
Santosh Sivan's Tahaan is an attempt to realistically, powerfully re-imagine
Kashmir, writes Shakuntala Rao
AS a young girl, growing up in one of the affluent colonies of South Delhi, I rarely noticed the Kashmiri carpet vendors who roamed our streets in their tongas. All I remember is my mother haggling with one vendor to buy a woolen carpet which still sits in my living room today, its colour faded and the wool coarse, after 35 years of excessive use. It has sentimental value for me and perhaps a stark reminder what Kashmir and its people have meant to us in our lives and imaginations.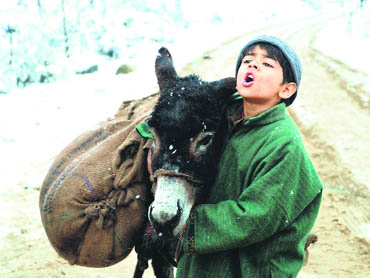 Tahaan explores the magical world of childhood

My understanding of Kashmir did not come from the peripatetic carpet vendors, history textbooks, or personal narratives but as a place of tremendous beauty and romantic interludes in the Hindi films of 1960s and 1970s. In my old favourites like Kashmir Ki Kali, Roti, Aarzoo, Silsila, and Aan Milo Sajna, the mountains and valleys were always the backdrop — and sometimes integral — to the evolving story of romance and drama.
But with the rise of armed insurgency in the late 1980s, the cinematic representation of Kashmir changed forever to a land infested with terrorists and virtually under curfew. In films like Roja, Dil Se and Gunehgar, Kashmir became the embodiment of violence, often symbolically associated with Islam. In Yahaan, Mission Kashmir, and Jaal, for instance, the militants were seen performing namaz with guns next to them and with namazi caps on. After the Kargil war, the splurge of patriotic films dramatically increased — LOC: Kargil, Pukar, Kohram, Lakshya, and Fanaa — and began, more vocally and explicitly, to link Kashmir with Islam and militancy.
In this bleak cinematic landscape comes a film of incredible acumen which, one hopes, will help us re-imagine Kashmir. It is Santosh Sivan's Tahaan.
The story is about eight-year old Tahaan (Purav Bhadare) who lives in the Valley with his grandfather, mother, and aunt. Tahaan's father has been missing for several years and the family lives in the desperate hope that he will return one day. Life is tough but with the death of Tahaan's grandfather, his mother is forced to sell off the family's assets to the moneylender, including Tahaan's pet donkey, Birbal. It becomes the little boy's mission in life to bring home Birbal. On his trail, Tahaan discovers that Birbal has been sold to a trader Subhan (Anupam Kher), who has taken him across the mountains. Devastated and lonely, the boy enslaves himself to Subhan in the hope of getting his donkey back. He accompanies Subhan and his aide Zafar (Rahul Bose), across terrorist-controlled land, but the old trader refuses to relent. Tahaan meets Idrees, a young teenager, who convinces him that he will get back Birbal for him if Tahaan will carry back a package for him. The package is a grenade.
Sivan has dealt with the subject of terrorism before in his earlier production, The Terrorist. As in his past films, the strength of Tahaan is in its utter simplicity. It explores the magical world of childhood, which Tahaan inhabits, where everything seems possible. The best performance comes from Sivan's camera. It captures the essential incorruptibility of Kashmir without plunging the pristine into over-sentimentality and religious bigotry. The actors — in particular Victor Banerjee, Rahul Bose, and Sarika — underwhelm the narration, nurturing the tender tale with their subtle interpretive expressions. Leading Kashmiri singer Gulzar Ahmad Ganai and his accompanists use their Sufiana compositions to give the film a simultaneous feel of playfulness and pain.
Tahaan is an attempt to cinematically re-imagine Kashmir, this time realistically, powerfully, and with empathy towards the people of the Valley who suffer daily in immeasurable ways.