Lage raho, Manno bhabhi!
Celebrities are getting into the skin of their characters in commercials to lend authenticity to their brand endorsements
Television is a one-shop stop for innovation. The ones who don't agree with me must still be suffering from the sop-opera syndrome, but the ones who do, know what's the underlying meaning here. We are talking about the
most important and the most interesting selling point of television, commercials. Now hold on, even with the whole kabab me haddi image of TV ads still doing rounds, the world of tele-advertising has never looked more tempting.
Lament for talent
"There's hardly any difference between an actor's work and a white-collar job. In both cases, you dress up well, reach the office on time and earn your bread by doing monotonous work," comes the critical analysis from television actor Sooraj Thapar, who was in the city on Saturday, as he compares the television industry of the past and present.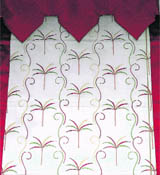 Chick lit
Curtains are passé, choose chic chicks for a traditional yet stylish decor
It's summer time, time for dimness and shade, and a perfect time to shop for chicks. Earthy and natural they not only add beauty to the décor but provide insulation against summer heat. Trendy addition to your home décor, these slick pieces sure catch attention. Available in bamboo, cane, jute, wood, faux wood and aluminum this is a thing of utility that adds style.
Photos: Parvesh Chauhan



Framed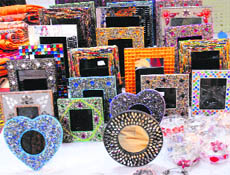 Check out apparel, jewellery, furniture and decorative pieces available at the handicraft exhibition on in Lajpat Rai Bhavan-15. Photo: Pradeep Tewari
Makeover magic
Welhome, India's largest chain in organised home textiles is offering complete makeover solutions this summer to bring in a whiff of freshness to your home décor. This summer sees the launch of some immaculately styled home décor products in bed and bath linen, that are also available in co-ordinated sets to give you a theme/story to take home. The specialized style team at Welhome will help you tone up your house with the latest trends for summer and spruce it with your inputs to give it that personal touch.
Plane suite
If you are in Costa Rica and looking for a 'high-flying' holiday experience, then check into a luxurious new hotel suite in the country that is built inside a converted vintage Boeing airliner. Earlier destined for scrap, the fuselage of a 1965 Boeing 727 has now been converted into a two-bedroom suite.


Style Check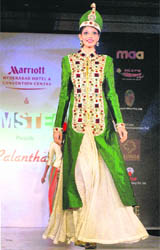 A model walks the ramp during a Hamstech Fashion show in Hyderabad. PTI Photo
Matka chowk
Perils of a city day
Dangers lurk in the most unlikely places. Who would think that withdrawing money from an ATM would be a hazardous affair? I read about the unfortunate city resident, who was trapped in a Sector 17 ATM, only to be detained later by the bank officials for damaging the door. Next time I step into one of these I would double check the door.
Hooked on a book
A competition in city saw people sharing stories about a book that changed their life
A book is not just a compilation of linguistic acumen, ideas that consume a lifetime, or just a healthy pastime for some. It is also a life changing experience. These wealthy warehouses of knowledge, and best friends forever, are also good stress busters. And all that and more became a reason for celebrating the World Book and Copyrights Day at Browser-8, in association with Big 92.7 FM.



Scent of women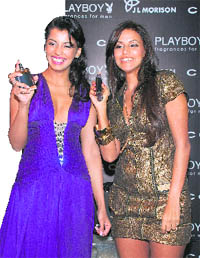 Bollywood actors Mugdha Godse (L) and Neha Dhupia smile during the unveiling ceremony of international 'Playboy' perfume in Mumbai. Manav Manglani/ REUTERS
New babe on bikini block
Anjana Sukhani says she is game for bikinis if her role really demands it. Though she has adopted a glamorous persona in films like Golmaal Returns and Salaam-E-Ishq, the actress is yet to join the bikini brigade.
Koffee break
Jack Of all trades
Bollywood has witnessed an inflow of some good and talented actors into its fold. One such multifaceted actor is young Rahul Singh, a product of Royal Academy of Dramatic Arts and British Film institute of London.
To stage or not to stage
Bollywood actor Naseeruddin Shah launched a DVD consisting of works of Shakespeare on the occasion of 445th birth anniversary of William Shakespeare. Noted film critic Bhawana Somaaya also accompanied Shah during the DVD release function on Friday.