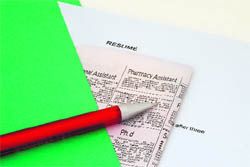 Writing a perfect CV
This is the time of the year when first-time job seekers are preparing themselves for the world of work. In these recessionary times, when the competition is immense and there are hundreds of highly experienced professionals looking for jobs and suitable assignments, finding a job is hard work. It demands lots of time, energy and patience. And that is where your CV (Curriculum Vitae or resume) becomes the first important aspect of your job search campaign. It is through CV you present yourself in print. A CV is designed to get you an interview.
CAREER HOTLINE
Relax and strike the right note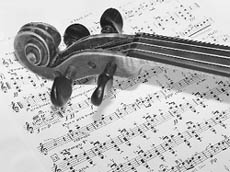 Q. I am a student of class XII.  Music is my passion. My voice is also good.  My voice suits western songs and I want to make a career in this. How can I pursue it and what should I do? I am very tense. — Meera Tewari A. If you want to be the next Indian Idol, nothing can stop you - provided you have the three Ts: talent, training and tenacity. In every sphere of music — be it vocal or instrumental, classical or light (non-classical/semi-classical or pop), stage or playback — the competition is very keen, as there are several professionally qualified and talented musicians.
Add to your pocket, skills this summer

Aim for excellence to secure job

ITIs only offer diploma courses

Enrol for M.Phil, eyeing NET

World of colours awaits you
Education loan: Demand never ceases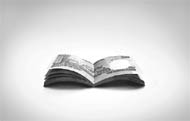 Public sector banks are seeing a great surge in applications for education loans. Up to December 2008, the total disbursal of education loans was to the tune of Rs 26,303 crore, an increase of over 600 per cent since March 2004
The slowdown has not have any significant impact on education loan portfolio of banks — especially the public sector banks. Banks are optimistic of registering over 40 per cent growth in their education loan portfolio despite the uncertainty in the job markets.
Office Mantra
Rude behaviour poisons workplace


Nobody prefers a person in the office who doesn't know how to talk. By behaving rudely, you are not only hampering your growth prospects, but also putting your job on the line. The faster you mend your ways the better it is
Do you work hard and still have a problem of not having good relations with your colleagues? Do your colleagues dislike you inspite of your tremendous output? You need to have an intensive look at your own behaviour. Remember, your behaviour at the workplace is the key to getting your value and worth recognised.


Careercature
Sandeep Joshi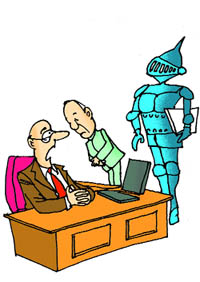 I am not asking for an armoured knight. What I need is a financial bailout.
Employees who surf the web may actually be doing their bosses a favour
Let there be Internet
EMPLOYEES who use the Net at the office for sending or receiving e-mails or browse the web may be doing their bosses a favour because they are more amenable to working after office hours or from home, according to a new study. The border between work and personal life created by the Internet is a boon for employees and employers, said Massey University student Andrea Polzer-Debruyne, who conducted the study for her psychology thesis.
State-owned banks to hire 30,000 in FY'10
New Delhi: Public sector banks will hire 30,000 personnel during 2009-10, even as India Inc, facing the heat of the global financial meltdown, has put a virtual halt on recruitment.
British Columbia beckons Punjabi entrepreneurs
Chandigarh: Despite the global economic meltdown, the government of Canada's British Columbia (BC) province is all set to establish a business investment and skills liaison office here to foster entrepreneurs and to encourage trade and investment from northern Indian states in BC
Growing network of specialists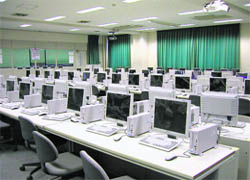 A career in networking seems to be a safe bet during the times of recession. Increasing dependency on computers at workplaces has ensured that networking specialists are in great demand
The global recession has had its effect on most of us. But why waste more time worrying and grumbling over the present crisis? It is a better idea to look for greener pastures and take the safe path. Continuing our discussion on 'recession proof jobs', let us give you one more career option within the hardware and networking industry that offers good prospects. Today we are discussing in detail about the job and growth prospects of a network specialist.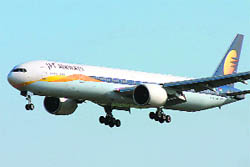 The meltdown
Jet Airways cuts pay of senior staff
Mumbai: In view of the global recession coupled with mounting financial losses, Naresh Goyal-run domestic private air-carrier, Jet Airways, has slashed salaries by up to 25 per cent of all its employees drawing a gross salary of above Rs 75,000 per month. "Huge financial losses have forced the airline to slash salaries by up to 25 per cent to all its employees drawing a gross salary of above Rs 75,000 per month," said an industry source.
Exports going down
Jaipur: When almost all the sectors are feeling the pinch of ongoing recssion, how can export sector be far behind. Decling demand in the internatinal markets have hit the exporters hard. This is a difficult phasefor them with markets shrinking due to the global economic meltdown, according to Federation of Indian Export Organisation (FIEO) chairman JK Jain.